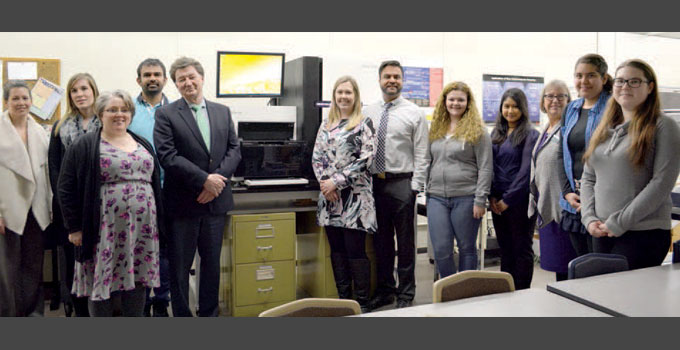 Fleming's Biotechnology-Advanced students have received a significant boost to their career preparation with the help of The Ontario Institute for Cancer Research (OICR). Their investment in people is recognized through a very generous donation of an Illumina HiSeq DNA Sequencer to the Biotechnology-Advanced program, a benefit to Fleming College valued at $600,000. This new equipment will provide students with hands-on experience using cutting-edge automated instruments that are utilized widely across the biotechnology industry.
"Some of the best technicians in OICR's genomic labs are Fleming College graduates. We are proud to pay-it-forward by helping the College give future life sciences researchers in Ontario hands-on training opportunities on real genomics equipment." says Paul Krzyzanowski, Program Manager of Genome Technologies, OICR. "Illumina equipment is the backbone of most sequencing labs and it's essential for today's students to become familiar with the complexity around these machines with hands-on experience."
The remarkable relationship between OICR and Fleming College has flourished over the last nine years. With its state of the art facilities and research, OICR has become a highly sought after internship agency for Fleming students since the first placement student in 2008. The support from OICR and Illumina helps Fleming College to lead the way in biotechnology training; contributing to excellence in academic programming that includes relevant experiences. The hands-on learning creates a positive impact towards the future of Fleming students and alumni, the success of employers and especially those who benefit from cancer research.
"We are very grateful for the Ontario Institute of Cancer Research for their investment in our students," says Biotechnology Program Coordinator Ashvin Mohindra. "OICR provides a practical training component through their in-kind gifts and placement opportunities for our students. With their help, we are also pleased to meet OICRs employment needs which is proven with the hiring of more than 18 Fleming College graduates to fill their high-tech positions."
The in-kind donation would have not been possible without the tireless effort of OICR and Illumina, the sequencer manufacturer and third party liquid handler software provider. The College would like to specifically recognize and thank everyone at OICR who made these donations possible (Lee Timms, Jessica Miller, Paul Krzyzanowski, Tom Hudson, Mike Kostiuk, Susan Hockley, Jeremy Johns, and Howard Simkevitz) and the staff at Illumina for their tireless help and expertise in setting up the equipment (Lisa Lock, Peter Ayache and Mike Ramsey).
OICR, a global leader in healthcare, research and innovation, is dedicated to exploring the prevention, early detection, diagnosis and treatment of cancer. Their commitment to exploring cancer extends beyond the lab; OICR invests in people who can make novel discoveries.
Note: This story originally appeared in the Spring 2017 edition of Fleming Ties magazine and has been reproduced with the permission of Fleming College. The original can be found here (PDF): https://flemingcollege.ca/PDF/FlemingTies/fleming-ties-spring-2017.pdf