OICR researchers and collaborators awarded $520,000 in new funding for COVID-19 drug discovery project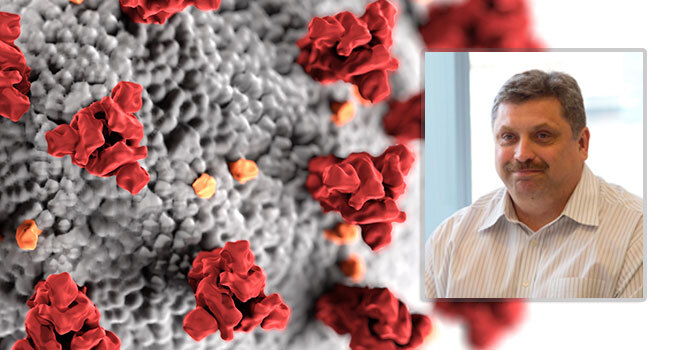 OICR Scientific Advisor and Group Leader, Dr. Gennady Poda, and collaborators at Sunnybrook Research Institute have been awarded $520,000 to identify new therapeutics and existing drugs that could be repurposed for the treatment of COVID-19. This award, which was announced on July 17 by Premier Doug Ford, is part of the Government of Ontario's $20 million COVID-19 Rapid Research Fund.
Using OICR supercomputers and advanced computational chemistry techniques, Poda and collaborators aim to identify drugs that can stop the virus from replicating in the body by targeting the virus' key polymerase enzyme, RdRP.
"We'll be looking for new potential drugs to treat the COVID-19 infections by rapidly identifying approved drugs and compounds that are in clinical trials that could inhibit RdRP," says Poda. "We will advance the most promising compounds into preclinical animal models and, if the data is promising, into patients."
The research group, which includes researchers in OICR Drug Discovery, the Structural Genomics Consortium (SGC, University of Toronto) and Sunnybrook Research Institute, will collaborate to virtually screen more than 10 million compounds against a set of high-resolution RdRP structures and further test the compounds using biochemical and cell-based experimental assays. The group will also leverage high-precision 3D simulations of RdRP to identify new compounds that could be developed into potential COVID-19 drugs.
"In our view, this represents the fastest route for Ontario scientists to develop potential small molecule therapeutics for COVID-19," says Poda. "In addition to helping those infected with the virus, we hope to benefit the Ontario economy by partnering with the pharmaceutical industry and bringing further investment to the local economy."
The project was conceptualized in collaboration with OICR's Dr. Rima Al-awar, Head, Therapeutic Innovation and Drug Discovery, and Dr. David Uehling, Scientific Advisor and Group Leader.
The funding round was announced alongside the government's made-in-Ontario Intellectual Property Action plan for generating intellectual property (IP) and ensuring the social and economic benefits of taxpayer-funded research stays in the province.
"Research and commercialization across all sectors are more important than ever to combat COVID-19 and to help with the post-pandemic economic recovery," said Ross Romano, Minister of Colleges and Universities in a recent news release. "That is why our world-class postsecondary and research institutions need to know that we have their backs by supporting Ontario-based research and leading the way towards economic recovery, resiliency and prosperity."
Read more about Ontario's COVID-19 Rapid Research Fund projects.