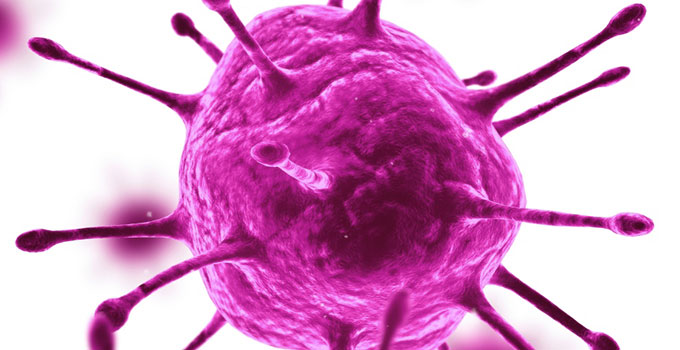 Drs. John Bell, David Stojdl and Brian Lichty have together been investigating viral therapies for over 15 years. On July 10 in Ottawa they announced that this work has now moved to the clinic, with the launch of a world-first clinical trial using their custom-made cancer-fighting viruses.
Dr. Bell is leader of OICR's Immuno- and Bio-therapies Program (ORBiT), based at the Ottawa Hospital Research Institute.
While using viruses to kill cancer is not new, the approach Drs. Bell, Stojdl and Lichty have developed is. The clinical trial is testing the effectiveness of two different viruses used in combination called MG1MA3 and AdMA3. MG1MA3 is derived from a virus called Maraba, which was first isolated from Brazilian sandflies, while AdMA3 is derived from a common cold virus called Adenovirus. The approach is unique because is comes in two stages. Both viruses have been engineered to stimulate an immune response against cancer cells that express a protein called MAGE-A3, using the body's own immune system to fight the cancer. The Maraba virus goes a step further by taking advantage of cancer cell's naturally weak structure, entering and replicating inside many kinds of cancer cells and killing them directly while leaving healthy cells untouched.
It is hoped that by combining the two approaches there will be a stronger, more targeted effect in the body.
Christina Monker, 75, a former nurse from Rockland, Ontario, spoke at the event. She is one of the first patients treated in the trial. She was diagnosed with cancer in 2012 and, despite six weeks of radiation therapy and two rounds of chemotherapy, the cancer spread to both her lungs. After completing another 30 rounds of chemotherapy, she enrolled in the trial at The Ottawa Hospital and was treated on June 2, 2015.
"The nausea of chemotherapy was worse than I ever could have imagined, but with the viral therapy I just felt like I had the flu for a couple of days, and the symptoms were easily managed," said Ms. Monker in a statement. "It is too soon to know if I may have benefited from this therapy, but I'm very glad to contribute to this important research that could improve care for others."
For more information about the announcement see the news release here:
https://oicr.on.ca/cancer-patients-treated-world-first-clinical-trial-canadian-viral-therapy
Coverage from CBC and CTV is here:
http://www.cbc.ca/news/health/cancer-targeted-by-2-viruses-in-made-in-canada-therapy-1.3147352
http://www.ctvnews.ca/health/canadian-study-to-use-two-cancer-fighting-viruses-in-world-first-1.2463322
Related
FACIT start-up company Turnstone Biologics secures $11.3 million in financing, boosts leadership