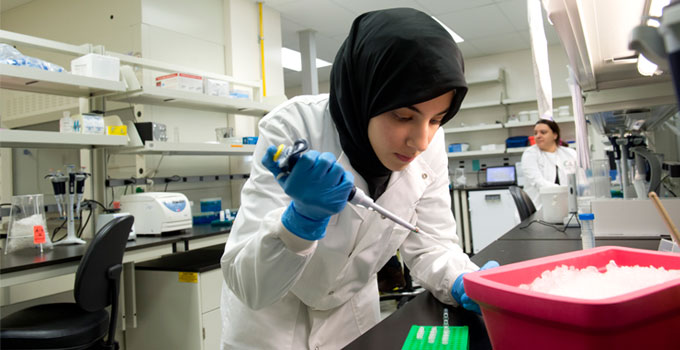 On International Women's Day, OICR scientists attended the first-ever Metamorphosis Girls STEM Conference at John Polanyi Collegiate Institute in Toronto. There, the researchers helped expose female grade seven and eight students to the various fields and career opportunities within science, technology, engineering and math (STEM) – with an emphasis on encouraging the next generation of female scientists to pursue a career in STEM fields.
As Canada transitions to a more knowledge-based economy the demand for workers skilled in science, technology, engineering and math has continued to grow. Today's youth have exciting new career options that didn't exist even a decade ago. OICR is committed to encouraging and training the next generation of cancer researchers in order to help Ontario remain a world leader in cancer research. It is crucial that all students are engaged with and encouraged to pursue education in STEM fields, but it is especially important that female students are given the tools they need to excel in these traditionally male-dominated fields. Doing so will not only ensure that Ontario's best and brightest enter STEM fields, but also close the gender gap that exists in science today.
A group of female scientists from OICR attended the Metamorphosis conference to help inform and inspire the next generation of computer programmers, scientists, research techs and doctors. The researchers held a session on debunking fake news in science and ran pathology and genomic sequencing demos.
.@OICR_news ladies of #scicomm today at #MORPH17 : @meyer_ann @elliannfairbai @cece_weir and me! pic.twitter.com/WpxkUeh7tv

— Morgan Taschuk (@morgantaschuk) March 8, 2017
The importance of the initiative was front-of-mind for the researchers. "I was motivated to show how interesting science can be and to show young girls, especially minorities, that there is a place for them in this diverse field," says Ceola Weir, Client Coordinator for the Ontario Tumour Bank. "There are not many women of colour in this field and I was hoping my presence would impact their decisions to pursue science in the future." Dr. Ann Meyer, Manager Knowledge and Research Exchange, also reflected on the impact they could have on students. "Getting girls to take an interest in STEM at a young age is very important. This conference was aimed at girls who are at an age to vaguely know what they want to be when they grow up but who are still young enough to be open to all the possibilities."
We're at #MORPH2017 @MetamorphSTEM inspiring #GirlsInSTEM for #IWD2017 #Toronto #cancerresearch #pathology @OICR_news pic.twitter.com/FMwF1QiF3F

— OICR OMPRN (@OntarioPath) March 8, 2017
The event was a success and made an impression on the scientists who attended. "What struck me was how many young women have a keen interest in science. The auditorium, lunch hall and exhibition area were packed with young women keen to interact with successful women in science. I walked away feeling invigorated and very hopeful for seeing more women in science," says Dr. Michelle Brazas, Program Manager, Informatics and Bio-computing.
The OICR scientists who attended said they are optimistic about young women's passion for science and hope they have helped put them on the path to successful careers in STEM.
Perhaps they even spoke to one of Ontario's future superstar cancer researchers.