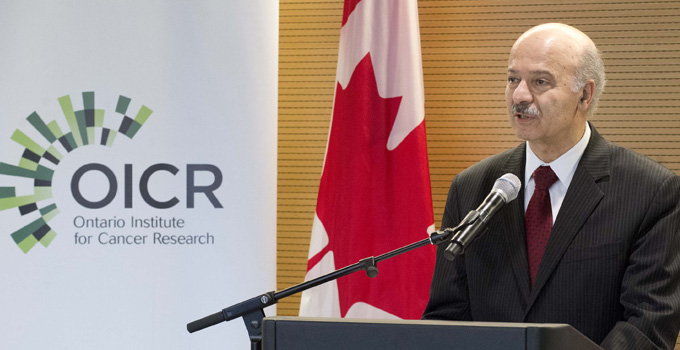 Toronto (May 25, 2017) – Reza Moridi, Ontario's Minister of Research, Innovation and Science, today announced the Ontario Institute for Cancer Research is launching five unique, cross-disciplinary, multi-institutional Translational Research Initiatives (TRIs), each focused on a single type of or treatment approach to cancer. With $24 million in funding over two years, the TRIs will bring together world-leading scientists to tackle some of the most difficult to treat cancers and test innovative solutions to some of the most serious challenges in cancer today.
The TRIs build on Ontario's proven strengths in areas such as stem cells, immuno-oncology, pediatric cancers, genomics, clinical trials and informatics. Working together, the province's top scientists and clinicians will accelerate the development of much needed solutions for patients around the globe, with a focus on acute leukemia and brain, ovarian and pancreatic cancers. Each TRI includes clinical trials to maximize patient impact.
"In just over 10 years, the Ontario Institute for Cancer Research has become a global centre of excellence that is moving the province to the forefront of discovery and innovation in cancer research. It is home to outstanding Ontario scientists, who are working together to ease the burden of cancer in our province and around the world," said Moridi.
"Collaboration and translational research are key to seeing that the innovative technologies being developed in Ontario reach the clinic and help patients," said Mr. Peter Goodhand, President of OICR. "These TRIs represent a unique and significant opportunity to impact clinical cancer care in the province."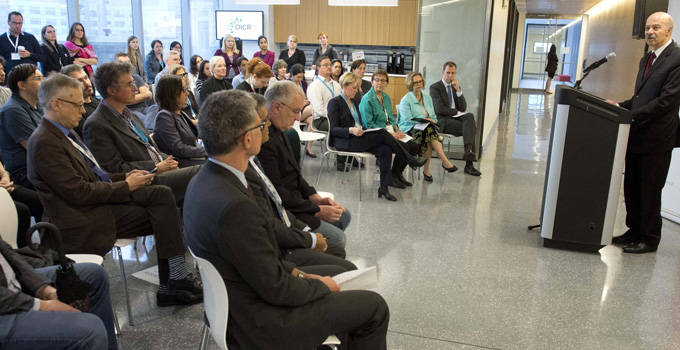 "Coupling the leading-edge science produced by these groups with clinical research and evaluation will help ensure that our work is making a real impact in the clinic. Bringing together researchers and clinicians with diverse specialties from across the province will allow that impact to be felt even sooner," said Dr. Craig Earle, Head of Clinical Translation.
OICR TRIs:
Acute Leukemia TRI
(led by Drs. John Dick and Aaron Schimmer at the University Health Network (UHN))
Great strides have been made in the treatment of acute leukemia patients, but many patients experience severe side effects of treatment and many see their cancer return. The Acute Leukemia TRI team will identify new biomarkers that will allow doctors to better predict whether a patient will relapse or not and new therapies that will target leukemic stem cells. This research will be focused on pushing new therapies and tests toward the clinic within the next two years, where they can help prevent relapse and reduce side effects for patients.
Brain Cancer TRI
(led by Drs. Peter Dirks and Michael Taylor at SickKids)
Ontario has extensive expertise in pediatric and adult brain cancer research and provides world-class treatment for patients. The insight gained from the Brain Cancer TRI will lead to innovative new targeting strategies to selectively kill off the most difficult source of tumour growth and propagation in both primary as well as metastatic and relapsed tumours, ultimately improving treatment and reducing side effects for both children and adults in one of the most complex and deadly types of cancer.
Immuno-oncology TRI (ACTION)
(led by Drs. John Bell and Marcus Butler at The Ottawa Hospital and UHN)
Harnessing the patient's own immune system to fight cancer has become a worldwide cancer treatment priority. Ontario is a world leader in immuno-oncology, especially in the emerging field of oncolytic viruses, and has a cohort of world-class researchers and clinicians in the field. The ACTION TRI unites Ontario-based scientists, clinicians and research institutes to develop and test novel products and immuno- and viral therapies in combination with other therapies to help patients in Ontario-based clinical trials. The TRI will provide new knowledge that can help more patients benefit from immunotherapies, especially those with metastatic cancers.
Ovarian Cancer TRI
(led by Drs. Amit Oza and Rob Rottapel at UHN)
The Ovarian Cancer TRI will develop predictive biomarkers and advance better treatment strategies to make ovarian cancer therapies more targeted, ultimately improving patient outcome. The TRI will improve understanding of the underlying biology of a disease, fuel therapeutic innovation in a type of cancer that has not seen outcomes improve in 50 years, and lead to new clinical trials that will better treat ovarian cancer. The project will have a direct and tangible clinical impact by using real-time genomic and immunogenic information dynamically to define and refine treatment.
Pancreatic Cancer TRI (PanCuRx)
(led by Dr. Steven Gallinger at UHN)
Pancreatic cancer is one of the most deadly forms of cancer and outcomes have not improved in four decades. There are major clinical challenges to treating the disease, including the fact that PDAC spreads to other parts of the body early, PDAC has proven relatively resistant to systemic therapies such as chemotherapy and there has been limited benefit from the use of newer molecular targeted agents. The PanCuRx initiative is providing a better understanding of the disease and actively applying new knowledge to cancer patients through clinical trials. This knowledge will help to improve quality of life and prolong outcomes for pancreatic cancer patients worldwide.
The funding announced today will also support Early Prostate Cancer Developmental Projects led by Drs. Paul Boutros and George Rodrigues.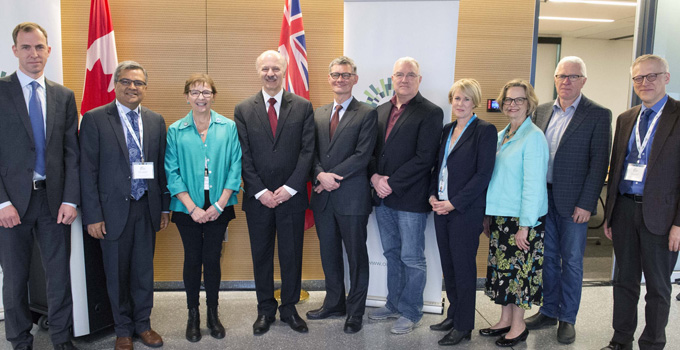 The TRIs were selected by an International Scientific Review Panel, which conducted an extensive evaluation of all submissions based on scientific merit and clinical impact.
"The quality of the proposed TRIs and the scientific and clinical leadership were very highly regarded by all the reviewers," said Dr. Patricia Ganz, TRI Review Co-Chair, and Director of Cancer Prevention and Control Research at the Jonsson Comprehensive Cancer Center at UCLA. "Ontarians can be proud of the world-class research teams assembled for the TRIs and the potential positive impact of their work on patients worldwide."
High resolution images
Dr. John Bell
Dr. John Dick
Dr. Peter Dirks
Dr. Steven Gallinger
Dr. Amit Oza
Dr. Robert Rottapel
Dr. Aaron Schimmer
Dr. Michael Taylor