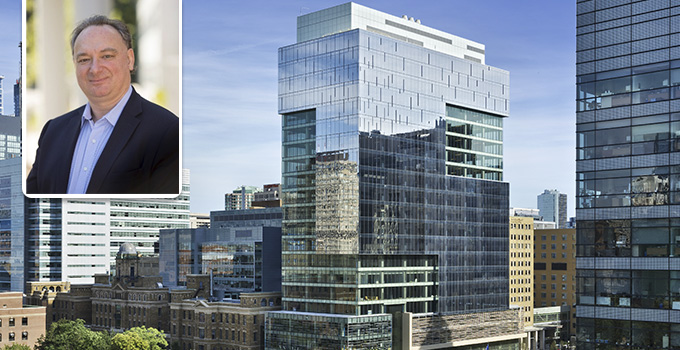 Following an extensive international search, I am very pleased to announce on behalf of the Board of Directors the appointment of Dr. Laszlo Radvanyi as the new President and Scientific Director of the Ontario Institute for Cancer Research (OICR) effective May 1, 2018. Dr. Radvanyi was born and raised in Toronto and obtained his PhD in Clinical Biochemistry from the University of Toronto in 1996. After obtaining his PhD, he performed post-doctoral work at Harvard University (Joslin Diabetes Center) and then worked for four years at Sanofi Pasteur Canada as a Senior Scientist in the Immunology Platform. Dr. Radvanyi brings a strong oncology research background as well as leadership experience in international pharma and small biotech. We are pleased to welcome him back to Ontario.
Dr. Radvanyi has joined OICR from EMD Serono (Merck KGaA, Darmstadt Germany) where he was a Senior Vice President, Global Senior Scientific Advisor in Immunology and Immuno-Oncology playing a central scientific advisory role, facilitating major academic center alliances, and running EMD Serono's CAR T-cell program in partnership with Intrexon. He also served as Global Head of the Immuno-Oncology Translational Innovation Platform where he was instrumental in rebuilding immuno-oncology research at the company, hiring new world-class scientific staff as well as pruning and re-orienting the discovery pipeline.
Prior to joining EMD Serono, Dr. Radvanyi was a Professor in the Department of Melanoma Medical Oncology at the University of Texas, MD Anderson Cancer Center in Houston for about 10 years (2004-2014). While at MD Anderson, he established a GMP-grade T-cell therapy manufacturing program for metastatic melanoma using expanded tumor-infiltrating lymphocytes (TIL) supporting a number of Phase II clinical trials and performed pre-clinical research on TIL biology, tumor microenvironment, and immunotherapy biomarker discovery. He also established and headed up an immuno-monitoring core facility at MD Anderson. Dr. Radvanyi then became the founding Chief Scientific Officer at Lion Biotechnologies (recently renamed Iovance Therapeutics) based in Tampa, Florida. In this role, he built the biotech's R&D infrastructure in Tampa, FL and lead development activities critical for launching two ongoing Phase II clinical trials.
Dr. Radvanyi is excited by the international reputation OICR has for scientific excellence in translational cancer research and the opportunity to achieve impact for cancer patients globally and working with FACIT to achieve economic growth in Ontario across its diverse programs. He is looking forward to engaging with the Institute and the Ontario cancer research community as he gets to know the inner workings and capabilities of OICR.
I would also like to take this opportunity on behalf of the Board of Directors to thank the OICR leadership team, and Peter Goodhand in particular, for the stellar work they have done in providing the critical leadership the Institute has needed over the last two years. Peter will remain with OICR as CEO of the Global Alliance for Genomics and Health (GA4GH) and will provide support to Dr. Radvanyi during the transition.
Best regards,
Tom Closson
Chair, OICR Board of Directors