New pancreatic cancer trial, NeoPancONE, launches across Canada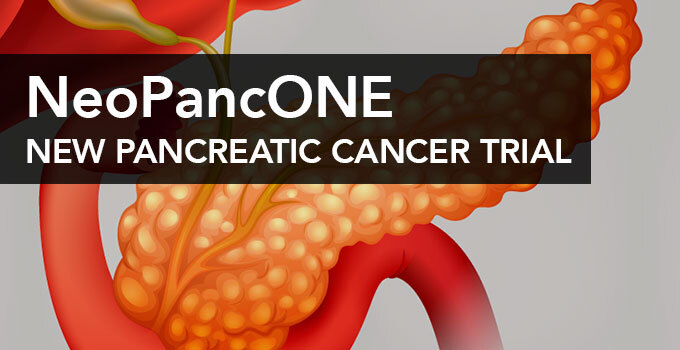 Adapted from Pancreatic Cancer Canada's press release.
OICR's PanCuRx team and collaborators have launched NeoPancONE, a Phase II clinical trial that will evaluate a potentially curative treatment strategy for operable pancreatic cancer. The trial, which is supported by Pancreatic Cancer Canada, will recruit patients at 10 cancer centres across the country to evaluate the effectiveness and feasibility of peri-operative chemotherapy – chemo treatment before and after surgery.
Typically, only 50 per cent of pancreatic cancer patients receive chemotherapy after surgery due to a range of personal and health reasons. NeoPancONE will help evaluate whether chemotherapy treatment before surgery can help extend the lives of these individuals.
In parallel, NeoPancONE will also validate a potential biomarker, GATA6, which was identified by the OICR-funded COMPASS trial. COMPASS data has shown that this marker may help predict how aggressive a patient's disease is and whether it will be sensitive to chemotherapy. NeoPancONE will now test if this marker can be seen in patients who are candidates for surgery.
"Surgery is the only chance for a cure, but we need a more targeted approach on how best to treat patients with systemic therapy both pre- and post-operatively," says Dr. Jennifer Knox, co-director of the McCain Centre for Pancreatic Cancer at Princess Margaret Cancer Centre and lead of NeoPancONE. "If we can reproduce the chemotherapy efficacy by GATA6 status seen in the COMPASS trial in the NeoPancONE trial now in the surgical setting, we could potentially separate patients based on a biomarker to treatment options in which they could do better. We could give them different chemotherapy, or different regimens. We could identify patients who could undergo standard chemotherapy and surgery with much better outcomes than the average statistics. We could suggest different approaches to those not likely to benefit from the standard approach and by avoiding non-effective therapy, improve quality of life. All of this is very important for pancreatic cancer patients because the outcomes, in general, are still poor. This is a way to improve that."
NeoPancONE key objectives
Assess disease-free survival in resectable pancreatic cancer patients treated with peri-operative mFOLFIRINOX according to the baseline GATA6 expression level
Establish the general feasibility of peri-operative chemotherapy more broadly in the Canadian medical environment in resectable pancreatic cancer patients.
NeoPancONE primary outcomes
Reduce the chances of disease recurrence, so more patients become survivors
Provide researchers with an opportunity to learn about the aggressiveness of the cancer and how it reacts to treatment by subtype
Influence the standard of care so more doctors consider chemotherapy as a treatment that can lengthen – or save – a patient's life.
"Even in the midst of a pandemic, our researchers have been working diligently to maintain and launch new clinical trials for the patients that don't have the time to wait," says Dr. Laszlo Radvanyi, President and Scientific Director of OICR. "I'm proud to see the continued progress of OICR's PanCuRx initiative thanks to an incredible, resilient team of OICR researchers and collaborators. This new NeoPancONE trial represents a great step towards a cure for operable pancreatic cancer."