Partnership between Thermo-Fisher Scientific and OICR Diagnostic Development, led by Dr. John Bartlett, awarded support from Genome Canada's Genomic Applications Partnership Program
The Honourable François-Philippe Champagne, Minister of Innovation, Science and Industry, has announced $8.6 million in federal support through Ontario Genomics via Genome Canada's Genomic Applications Partnership Program (GAPP) to five applied genomics research projects that will improve the well-being of Canadians. As one of the five recipients, OICR's Diagnostic Development program will receive $2.4 million to develop an epigenomic profiling tool to better understand the progression of breast cancer.
Working with Thermo Fisher Scientific, OICR's Drs. John Bartlett, Jane Bayani, Melanie Spears and collaborators will investigate the effects of differences in ethnicity on breast cancer treatment and survivorship. Their ultimate goal is to make the delivery of targeted breast cancer treatment more equitable for Black and Asian women.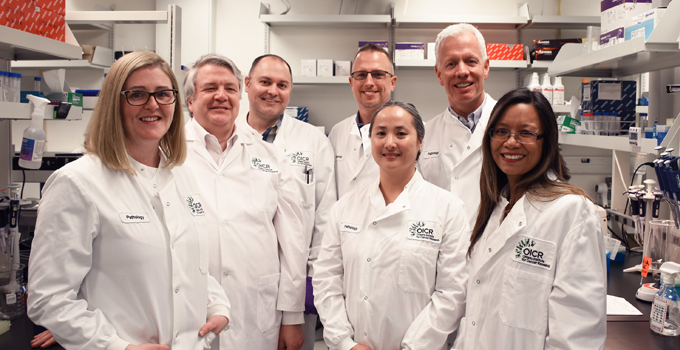 "Moving forward we want to understand how the complex relationship between biology and ethnicity can accelerate the delivery of the best treatments to patients, treating everyone as an individual based on the biology of their disease," says Dr. John Bartlett, Director, Diagnostic Development, OICR.
Breast cancer, which was once considered a homogeneous disease, is now understood to be a variety of different types of cancer that require different types of treatment. Understanding the DNA changes that lead to breast cancer and the downstream effects of DNA changes on the cellular machinery – such as the epigenomics of the disease – helps us match the best treatment for each patient. Through this project, Bartlett, Bayani, Spears and collaborators will develop and validate new and improved tests to subtype and predict the severity of breast cancers. They will focus on comparing results between cancers in Black and Asian minority ethnic groups and other ethnic groups.
"We're thrilled to continue working with Thermo Fisher to examine the role of ethnicity and develop new tools in the diagnosis of breast cancer," says Dr. Melanie Spears, Principal Research Scientist, Diagnostic Development.
Genome Canada's GAPP funds translational research and development projects that address real-world challenges and opportunities identified by industry, government, not-for-profits, and other receptors of genomics knowledge and technology. These targeted investments support outcome-oriented partnerships across sectors to generate Canadian-led solutions.
"This grant will give us the opportunity to bring additional precision medicine tests for breast cancer patients and examine the impact ethnicity has in the biology of these cancers," says Bayani, co-lead investigator and Principal Research Scientist at OICR. "We're excited to work with our industry partner and collaborators in moving personalize medicine forward," says Dr. Jane Bayani, Principal Research Scientist, Diagnostic Development.
"Investing in genomics research with a line of sight to application is critical for the health and well-being of Canadians," said Dr. Rob Annan, President and CEO of Genome Canada. "Genome Canada is proud to work with the Government of Canada to fuel demand-driven genomics research and innovation collaborations among academic, industry, health-care and other partners to shape a better, healthier future for Canadians."
Learn more about this project: Development of an Epigenomic Profiling Tool to Facilitate Precision Medicine in Early Breast Cancer.