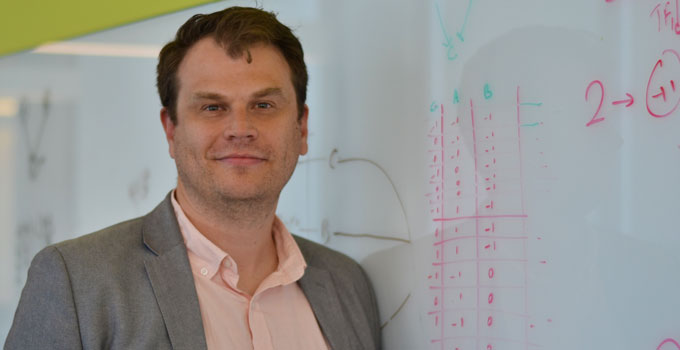 Dr. Michael Fraser, Director of the Prostate Program in the Computational Biology group at OICR, has been named a 2018 NextGen Star by the American Association for Cancer Research (AACR). Awarded to only eight researchers around the world, AACR's NextGen Stars program recognizes outstanding early-career scientists who have made significant contributions to cancer research.
Fraser was also the Associate Director of CPC-GENE, a multi-institutional pan-Canadian research network that performed the most comprehensive analysis of genomic changes in prostate cancer to date. CPC-GENE's research has informed precision medicine strategies for localized prostate cancer and transformed understanding of the disease. CPC-GENE has been led by Dr. Paul Boutros, Principal Investigator, Computational Biology at OICR and Professor Robert Bristow, Director of the Manchester Cancer Research Centre at the University of Manchester U.K., formerly of the Princess Margaret Cancer Centre in Toronto.
"By looking into the genomic changes of prostate cancer, we've found new ways to stratify patients based on their tumour aggressiveness," says Fraser. "This means we can use these findings to develop new therapies and personalize treatment strategies for prostate cancer patients."
Fraser's compelling work has been published in high-impact journals including Nature, Nature Genetics and Nature Communications. He has presented his research at multiple international conferences and – for the first time – presented his research at an AACR Annual Meeting in April of this year. His presentation was featured in the session "Precision Prevention and Early Detection of Cancer".
"Presenting the CPC-GENE experience allowed us to share our findings with researchers and promote the next phase of this project: bringing these discoveries to patients," says Fraser.