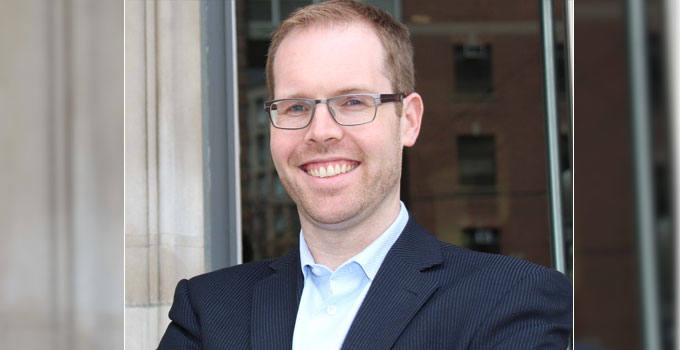 Dr. Trevor Pugh, OICR Senior Investigator, OICR Director of Genomics and Senior Scientist, Princess Margaret Cancer Centre has been named a Recipient of Canada's Top 40 Under 40 for 2020.
The annual award was founded by Caldwell and recognizes 40 exceptional Canadian leaders who are visionaries, creative problem-solvers, inspire others, give back to the community and are under the age of 40.
Pugh and his fellow awardees were selected from over 900 nominees by an independent advisory board, comprising more than 25 business leaders from across Canada. Honourees were chosen on four key criteria: vision and innovation, leadership, impact and influence, and social responsibility.
When told that he had won, Dr. Pugh was elated.
"I could not believe it," he said. "I'm tremendously excited. I really look forward to connecting with the Top 40 Under 40 community. It is very gratifying to see genome science and translational science – which has a direct impact on patient care – be recognized as an important field along with business luminaries."
Pugh is a world-leading cancer genomics researcher and molecular geneticist whose mission is to use comprehensive genomic profiling and molecular technologies to guide the treatment of patients.
After receiving a PhD in medical genetics from the University of British Columbia, he did further postdoctoral work at Harvard Medical School, Broad Institute of Harvard and Massachusetts Institute of Technology (MIT), as well as the Dana-Farber Cancer Institute.
He leads a multidisciplinary lab with 24 staff and trainees, and oversees 55 research staff at one of the largest genomics facilities in Canada at OICR and the Princess Margaret Cancer Centre. He is also an Associate Professor in the Department of Medical Biophysics at the University of Toronto.
Pugh is listed on the 2019 Highly Cited Researchers List by Clarivate Analytics. This list recognizes researchers whose published work has ranked in the top 1 per cent by citations of other researchers the world over.
He has also developed novel genomics technologies, including a new method which assesses and monitors if immune cells have been activated to fight cancer cells.
"I congratulate Trevor on being named to the prestigious Canada's Top 40 Under 40. Through his cutting-edge research and leadership, Trevor is creating a future in which genomics are a routine part of cancer detection and precision treatment," says Dr. Laszlo Radvanyi, President and Scientific Director, OICR. "Through his work at OICR I have seen firsthand Trevor's outstanding commitment to his field, the collaborative and transparent spirit in his work, and his heartfelt desire to improve the lives of those with cancer."
As a clinical molecular geneticist, genome scientist, and computational biologist, Pugh's goal is to bring cutting-edge genomic technologies into routine use in cancer clinics – especially vital as the latest cancer treatments are increasingly based on genetic information.

Known widely for his leadership of numerous cancer genome research projects, Pugh's expertise in clinical genomics has been foundational to the launch of the national Terry Fox Marathon of Hope Cancer Centres Network, which has become the nation-wide focal point to accelerate precision medicine for cancer. The Network will unite top-tier researchers and clinicians to test cutting-edge technologies in the clinic, share data and results for each cancer patient in Canada and provide access to any clinical trial – no matter where patients live.
This will give us a true and accurate representation of cancer as it occurs in populations across Canada, says Pugh, and will help us get answers to questions such as:
"How often does this genetic change occur in the population? What treatments did cancer patients get that worked best for specific or rare molecular cancer subtypes?
"We have no way of knowing or asking for that information now."
Pugh's research is also focused on detecting cancer as early as possible – even before it is diagnosed.
While screening tests exist for some cancers – such as mammography, colonoscopy and prostate specific antigen – most cancers do not have a non-invasive, early screening option.
"That is worrisome for people, especially those at high-risk for less frequent but lethal cancers," says Pugh. "We want to change that using annual blood tests. The vision is early cancer screening for everybody, for every cancer type."
With OICR's support, Pugh and co-lead Dr. Raymond Kim of the Princess Margaret Cancer Centre are leading CHARM, a study that will test the blood samples of people without cancer to look for early traces of the disease. Data from this study will help scientists track how blood and immune systems change as people develop cancer, and how different environments and stressors affect the cancer risk.
"If we want to increase the speed at which patients can benefit from new treatments, we have to promote cross-training between everyone in healthcare: clinicians, scientists, computer whizzes, lab technologists, patients," says Pugh. "We urge everyone to step outside their comfort zones, work together on a science project, learn a new skill and to collaborate!"
Adapted from an original post by the University Health Network.