OICR research strategy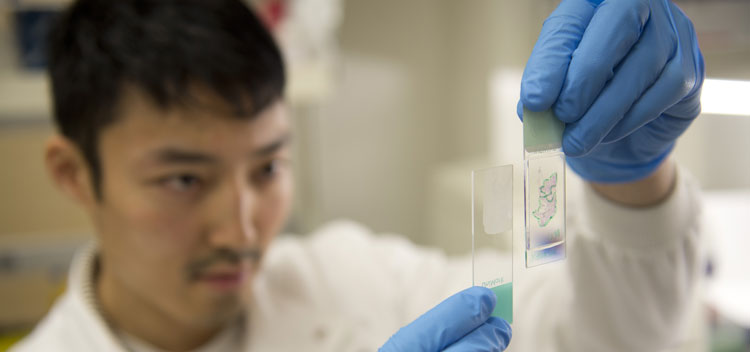 OICR's current Strategic Plan (2016-2021) sets out a vision that builds upon the strong foundations of the Institute's first decade, while also recognizing and responding to current advances and opportunities in global cancer research.
OICR's current strategy has better positioned the Institute to drive promising assets coming out of our early research efforts toward the clinic and to more broadly accelerate translational cancer research in Ontario.
Over the next five years, OICR will continue to identify and catalyze the development of innovative concepts and technologies to fuel Ontario's translational research pipeline, focus on validating assets in the clinic, drive commercialization opportunities in partnership with the Fight Against Cancer Innovation Trust (FACIT), and more broadly accelerate cancer research across Ontario.
Our strategic plan will ensure that OICR's work will have a global impact for patients, while maximizing the economic benefit of this work for the people of Ontario.
Partnerships, both with the private and public sector, including pharmaceutical companies, biotechnology companies, venture capital firms, cancer centres, research institutes, hospitals, government agencies, academia and patients, are critical in continuing to maximize the impact of our investment and to bring new breakthroughs to patients.
Strategic Plan 2016-2021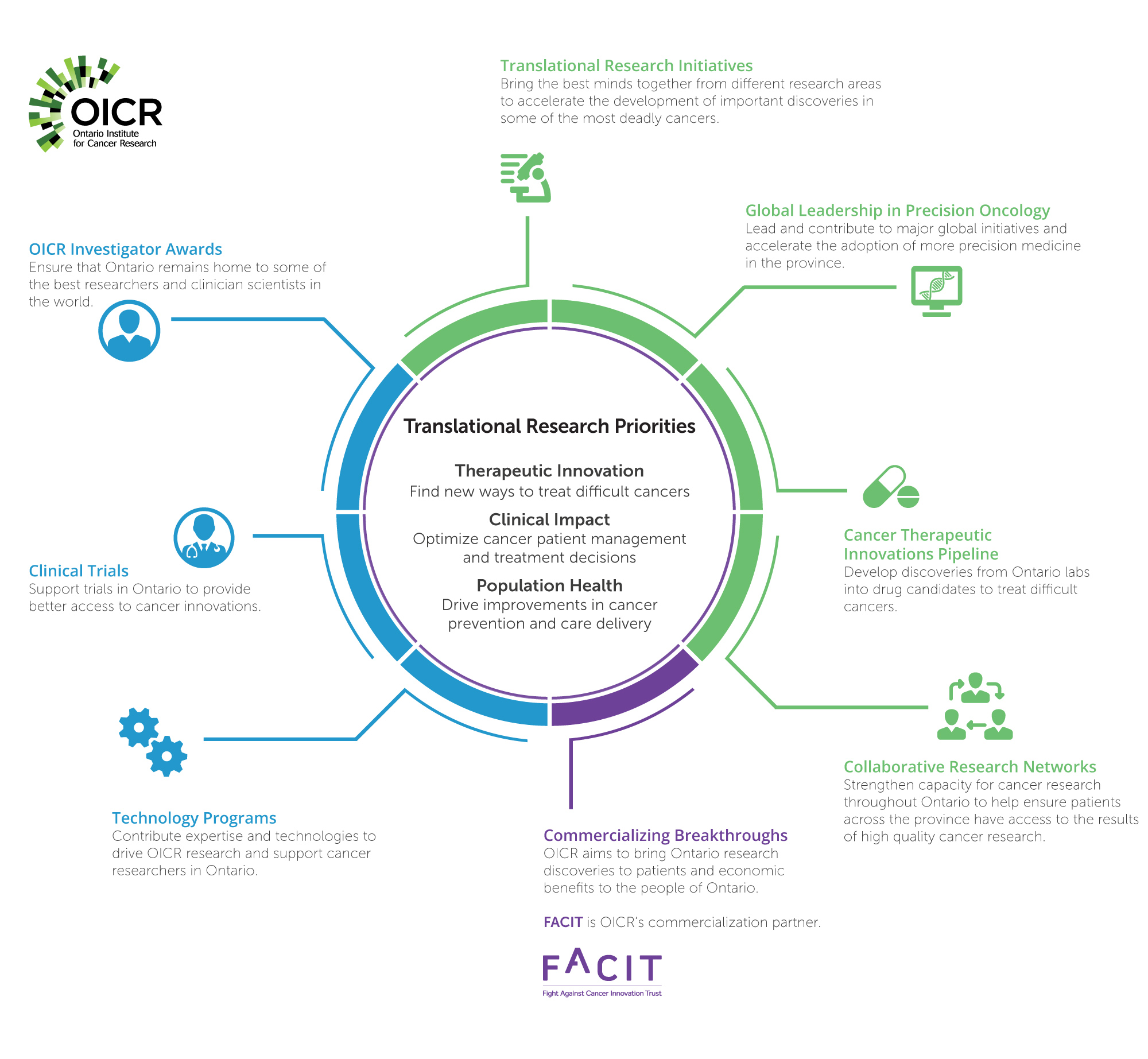 Goals and Strategic Initiatives
OICR has set the following five overarching goals to realize its ambitious mandate:
Perform cutting-edge translational cancer research.
Mobilize Ontario research strengths around key cancer priorities.
Partner with the Ontario cancer community to leverage and elevate the level and impact of cancer research in the province.
Drive the adoption and/or commercialization of cancer innovations in Ontario.
Enhance Ontario's global leadership in cancer research.
To achieve these goals we are focusing our investments in four Strategic Initiatives where Ontario is well-positioned to make a significant impact in preventing cancer and in improving how cancer is diagnosed and treated.
Translational Research Initiatives:
Large-scale, multi-disciplinary collaborations between laboratory and clinician-scientists focused on translating Ontario innovations and assets or knowledge to address important medical needs of cancer patients.
Global Leadership in Precision Oncology:
Convergence of clinical genomics with big data analytics and global networks to improve patient management and tailoring of interventions to the individual patient.
Cancer Therapeutic Innovations Pipeline:
A multi-institutional approach to efficiently develop discoveries from Ontario laboratories into new therapies to treat difficult cancers.
Collaborative Research Networks:
Networks of experts, teams and capabilities that facilitate translational cancer research in Ontario.
These four Strategic Initiatives are supported by cutting-edge Technology Programs that provide expertise, resources and innovative technologies.
Building research capacity in Ontario
OICR continues to invest in attracting and retaining top scientists to the province through our Investigator Awards Program and in clinical trials to validate our discoveries and provide patients in Ontario with better access to cancer innovations.
Collaboration
This new framework allows for greater integration, focus and coordination of our activities, provides an avenue for new collaborations with the Ontario cancer research and clinical communities and serves as a catalyst for private and public sector partnerships and investment.
Interested in collaborating?
OICR investigators collaborate with the oncology research community in Ontario, Canada and worldwide. Visit our section on collaboration for more information.
Further reading