OICR research strategy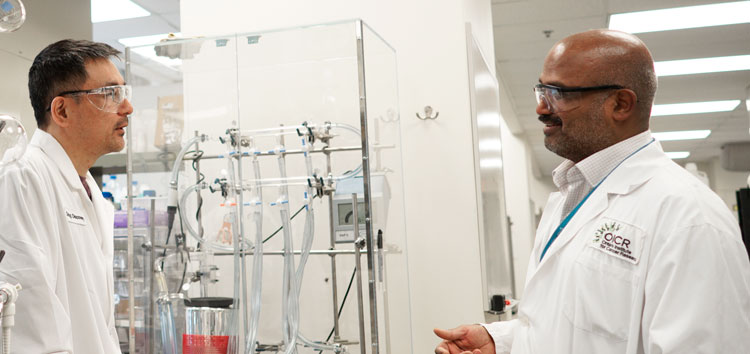 OICR's research strategy positions the Institute to drive promising assets coming out of early research efforts toward the clinic and to accelerate translational cancer research across Ontario and beyond.
Our research strategy ensures our work has a global impact for patients, while maximizing the economic benefit of this work for the people of Ontario.
Research blueprint
OICR conducts research with a focus on three research priorities:
Adaptive Oncology
Develop knowledge and approaches to monitor cancer over its lifecycle in order to enable precise and proactive clinical management.
Clinical Translation
Advance Ontario cancer studies through early clinical validation and leverage Ontario health system data to understand, evaluate and optimize cancer prevention and care delivery.
Therapeutic Innovation
Validate novel cancer drug targets and advance selective therapeutic candidates through pre-clinical development.
In addition, OICR supports three main activities aimed at enabling world-class translational cancer research in Ontario:
Investigator Awards: Recruit and retain outstanding cancer scientists and clinician scientists to Ontario.
Collaborative Research Resources (CRR): Provide access to OICR-supported cutting-edge expertise, resources and infrastructure.
Actively partner with FACIT to identify and advance oncology innovations to real world opportunities benefitting patients and the Ontario economy.
Goals
OICR has five overarching goals to realize our mandate:
Perform cutting-edge translational cancer research.
Mobilize Ontario research strengths around key cancer priorities.
Partner with the Ontario cancer community to leverage and elevate the level and impact of cancer research in the province.
Drive the adoption and/or commercialization of cancer innovations in Ontario.
Enhance Ontario's global leadership in cancer research.
Collaboration
Collaboration, both with the private and public sector, including pharmaceutical companies, biotechnology companies, venture capital firms, cancer centres, research institutes, hospitals, government agencies, academia and patients, is critical in maximizing the impact of our investment and bringing new breakthroughs to patients.
Interested in collaborating?
OICR investigators collaborate with the oncology research community in Ontario, Canada and worldwide. Visit our Collaborative Research Resources directory, explore our programs, or meet our researchers to find out more about opportunities to collaborate.
Further reading