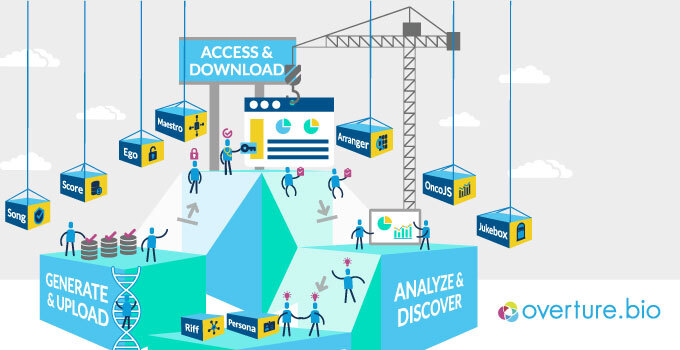 OICR's Genome Informatics team receives federal funding from Canada's National Research and Education Network to expand Overture, an open-source software suite for big data genomic research
Software tools are key to turning big data into discoveries in science and medicine. Reusing existing software accelerates the pace of discovery and can maximize the impact of public funding for research but only if the software is accessible and useable.
Today, Canada's National Research and Education Network, CANARIE, announced their support of 12 teams across Canada as they adapt their existing research platforms for re-use by other research teams. With this funding, the OICR Genome Informatics team will evolve the accessibility and functionality of Overture, their software suite for big data genomic research.
"Our team has a longstanding commitment to the community," says Dr. Christina Yung, Director of Genome Informatics. "We want to maximize the impact with the resources we have, which means focusing on key challenges and making our tools the most useful for the research community. This funding will allow us to do just that."
Overture is a software suite of customizable and extendable tools for big data genomic research. One of Overture's key products allows research teams to store and distribute genomic datasets while providing an authentication and authorization system for secure and safe data sharing. Overture also provides user-friendly portals for browsing and querying data, which was developed as part of the International Cancer Genome Consortium (ICGC) and the European-Canadian Cancer Network (EUCANCan).
CANARIE's support will allow OICR's team to simplify Overture installation and configuration, provide additional authentication functionality and improve the customizability of the data portal.
"With this support, we will add new features to increase adoption by new research teams," says Yung. "The hope is to enable research teams from across Canada and around the world to re-use the software that we developed and accelerate their own discoveries. We're grateful for how the community has contributed to our research through sharing open-source software and we're proud to give back."
"The ability to connect, share data and work collaboratively with researchers from across Canada and the world is a priority for our government," said the Honourable Navdeep Bains, Minister of Innovation, Science and Industry Default Title →. "Today's funding will help accelerate Canadian discoveries by making it easier for our researchers to find, access, and reuse data with collaborators across the country and around the world."