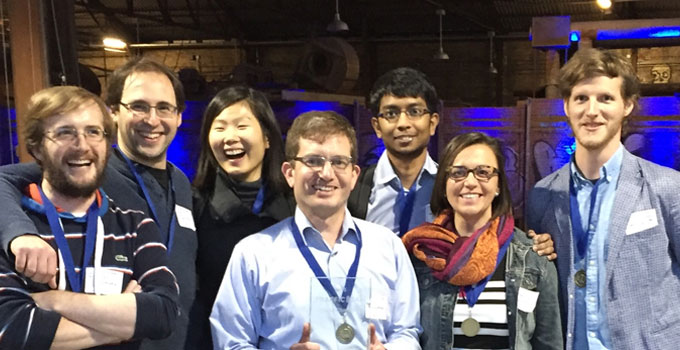 During the week, Jonathan Dursi uses his skills at OICR to help tackle one of the world's biggest problems – cancer. But this fall Dursi instead used his talents to come up with ways to mitigate one of the greatest annoyances of life in Toronto – traffic. He did this with more than a hundred others interested in traffic and planning at the TrafficJam, a two-day hackathon organized by the City of Toronto to find solutions to traffic problems in the city. Twenty-two teams participated in the event and Dursi and his team, the Traffic Jam Tacos, came out on top.
Dursi was drawn to the hackathon by personal interest, saying "It's hard not to live in Toronto for a while without developing a keen interest in transit and traffic." Dursi and his team won the hackathon by coming up with a creative way to use an already available source of data – the TTC's GPS-tracked buses. The team designed a way to use the buses as 'probes' to better understand and predict problem traffic areas. The tag line for the project called Traffic You Can Count On cleverly refers to the buses as the "canary in the data mine."
"We used the GPS data from the buses to model traffic and mapped not just congestion and resulting slow speeds, but also unreliable areas where speed is highly variable," explains Dursi. "Poor reliability makes travel unpredictable for drivers. We can use the data to warn traffic planners about areas that are in danger of becoming congested." Dursi's team found that at-risk areas were mostly outside the downtown core. He says the results can be used to address problems before they get worse, guide new development, choose routes and measure the effect of changes in real time.
As a Scientific Associate in the Simpson Lab at OICR, Dursi performs variant calling (trying to identify mutations in genomes) and works to understand the data produced by palm-sized Nanopore genome sequencers. While the work Dursi did at the Hackathon was different than his day-to-day at OICR, he did find some similarities. "Our team of six had a city planner, a developer, a couple of scientists, a traffic engineering student and a business student," he explains. "Working in an interdisciplinary environment like OICR, where many different skills have to come together to tackle really big problems, was great experience for working on the hackathon team." Dursi says that his training in the Simpson lab in diving deep into data in search of insights also served him well.
Winning the hackathon was not the end of the line for the Traffic You Can Count On project. Dursi and the Traffic Jam Tacos intend to further develop their system. "We have met a couple of times to move things forward and we sent off an abstract to a traffic conference which will take place next year," he says. "We are also starting to document everything and put it together on a webpage and develop some web apps."
When asked if he plans on participating in any future hackathons, Dursi muses, "This was my first hackathon and our team won, so maybe I will end on a high note. But more seriously it would depend on the cause – it was an exciting experience but it was pretty intense – some of our younger teammates even slept overnight at the venue."
Media coverage
Toronto aims to use data for traffic insight
From: The Globe and Mail
Hackathon teams get two days to tackle Toronto traffic
From: Toronto Star
Hackers tackle Toronto's Traffic
From: Metro News
Tackling Congestion
From: Metro Morning