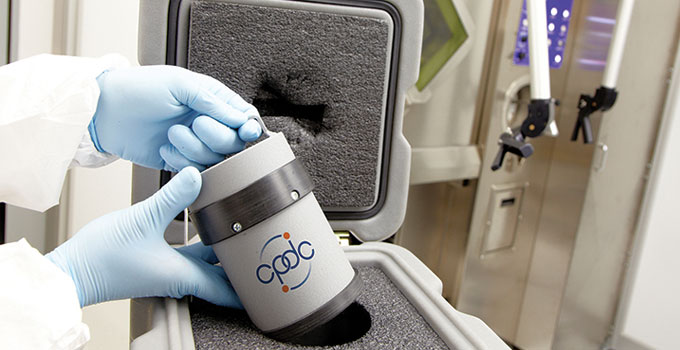 The Centre for Probe Development and Commercialization (CPDC) awarded $10.5 million to expand molecular imaging probe work in Ontario
Translating new scientific discoveries into products and moving those products to the market is a challenging process. This is especially the case for highly-regulated medical products such as radiopharmaceuticals – a special class of drugs that are used to accurately diagnose and treat diseases. Over the past decade, the CPDC in Hamilton has been bridging the gap between the innovation and commercialization of radiopharmaceuticals in Ontario and, in turn, reaping benefits for patients and the province's economy.
The Government of Canada's Centres of Excellence for Commercialization and Research (CECR) program has recognized CPDC's contributions to Ontario's radiopharmaceutical capacity and recently awarded CPDC $10.5 million to expand its services and infrastructure over the next four years. This new federal funding builds on OICR's longstanding investments in CPDC and ongoing support through OICR's Adaptive Oncology program.
"Our team will use the new funding to support the translation and commercialization of new Canadian technologies and position Canada at the forefront of the rapidly growing therapeutic medical isotope and radiopharmaceutical sector," – Dr. John Valliant, Founder and CEO, CPDC.
CPDC, which was launched with funding from OICR in 2008, discovers, develops and distributes radiopharmaceuticals, also known as molecular imaging probes, for various diseases including heart disease and cancer. The Centre performs cutting-edge research on new probes in collaboration with academic and pharma partners, while also manufacturing existing probes that are used daily in hospitals.
"With the funding from our longstanding partners at the Ontario Institute for Cancer Research, the support and unique vision of McMaster University, and partnerships with leading academic and industry organizations, the CPDC has been able to foster Canadian innovation and commercialization,"  says Valliant.
With their renewed federal support, CPDC will expand manufacturing and training initiatives while supporting more jobs and ensuring Canadians have access to new radiopharmaceutical solutions sooner. Through this expansion, Valliant estimates that employment will double, from 100 CPDC employees to a target of over 200.
In addition to creating jobs in-house, CPDC also establishes spin out companies to support their products through development and attract international investment. Their keystone radiotherapeutic program, FPX-01, has been developed by Fusion Pharmaceuticals, a CPDC spinout company, which last year attracted $46 million USD in international venture capital to bring FPX-01 into clinical trials for patients with hard-to-treat cancers.
CPDC's successful track record has now attracted three rounds of federal funding over the past 10 years – the only CECR to ever do so. Minister of Science and Sport Kirsty Duncan congratulated CPDC and the four other federally-funded CECRs across Canada while announcing the funding in Hamilton on Monday. "It's an extremely competitive process," Duncan told the Hamilton Spectator, "So to be chosen is a real accomplishment and the people of Hamilton should be so enormously proud."