Five promising early stage research projects that would benefit from OICR's input and expertise were selected from a province-wide call for proposals.
Toronto (January 7, 2016) – Dr. Tom Hudson, President and Scientific Director of the Ontario Institute for Cancer Research (OICR) announced today that OICR will invest $1.2 million in funding, plus expertise and in-kind support, to help bring five promising oncology drug development projects closer to the clinic.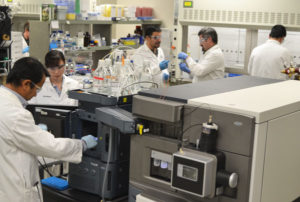 OICR's Drug Discovery Team is made up of 26 highly skilled, industry trained drug discovery scientists housed in state of the art facilities with a mission to help Ontario's researchers efficiently translate cancer related discoveries into novel oncology therapies. This team has "identified five of the most promising early stage oncology drug development projects in the province," said Hudson. "OICR is pleased to support these Ontario-based research projects and we look forward to collaborating with our partners to help move them to the next stage of development."
The selected projects address a range of cancers, including hematological malignancies, triple negative breast cancer and colon cancer. They come from major institutions across Ontario and were selected from a province-wide call for proposals to identify promising oncology research that would benefit from OICR's expertise in drug discovery.
Funding recipients are:
Dr. David Andrews, Sunnybrook Health Sciences Centre;
Dr. Liliana Attisano, University of Toronto;
Dr. Maria Rozakis, University of Toronto;
Dr. Aaron Schimmer, University Health Network;
Dr. Jeff Wrana, The Lunenfeld Tanenbaum Research Institute, Sinai Health System.
"Our team has the combined expertise and experience across disciplines and from both industry and academia to help these projects achieve their full potential," said Dr. Rima Al-awar, Director of OICR's Drug Discovery Program. "We are extremely fortunate to be able to tap into such promising research right here in Ontario."
"These projects highlight the excellent oncology research underway across the province of Ontario", said Reza Moridi, Minister of Research and Innovation. "We are proud to support these projects and look forward to their development over the coming years."
This is the first competition that OICR's Drug Discovery Program has run, with more planned for the future. OICR's Drug Discovery Program is open to collaboration on oncology research projects. Interested parties can contact Dr. Rima Al-awar at rima.alawar@oicr.on.ca.