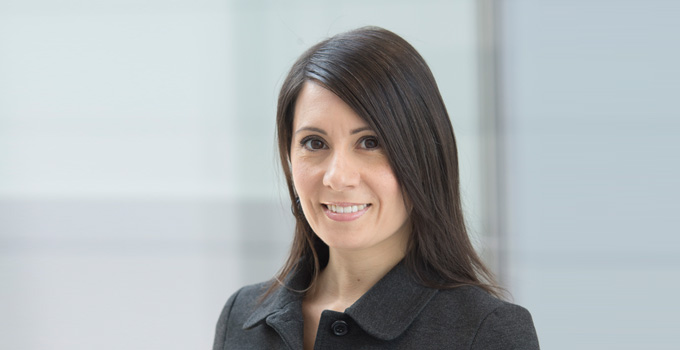 Biorepositories (or biobanks) play an important role in many types of research. But biobanking is a complex process requiring careful management of a whole range of scientific, legal, technical and ethical issues. We spoke to Monique Albert, Director of the Ontario Tumour Bank, about the importance of good biobanks, how the Ontario Tumour Bank is working with international partners to improve biobanking globally and why this type of international collaboration is benefitting researchers in Ontario.
Biobanks play a crucial role in not only biomedical science, but also agricultural, veterinary and other types of research. Great care is taken by biobankers to ensure that the samples they hold are collected, processed, and stored correctly and in a manner that makes them accessible and as useful as possible for researchers.
OICR is home to the Ontario Tumour Bank (OTB), which specializes in storing and providing cryopreserved tissue and fractionated blood samples with annotated clinical data to researchers in the province and elsewhere. Over the last couple of years, Monique Albert, Director of OTB, has taken on additional high-profile roles with the International Society of Biological and Environmental Repositories (ISBER). Most recently she was elected to ISBER's Board as Director at Large for the Americas and sits on ISBER's Governance Committee. Albert also headed the Scientific Program Committee for ISBER's 2017 Annual Conference, which took place in Toronto in May.
Can you tell us a little bit about ISBER?
Sure. ISBER was established in 1999 with the support of the NIH and other institutions. It was born out of a need to create and promote ethical, legal, scientific and technical standards and encourage harmonization of biobanking practices to improve the availability and quality of samples for researchers to use.
ISBER has been successful in establishing biobanking as its own field within the larger research world by putting together a set of best practices (4th edition is coming soon!), establishing a journal for the field and hosting conferences for the community to exchange information. It is continually evolving to help biobanks all over the world deal with ongoing and emerging issues.
Why did you decide to move OTB into a more active role within ISBER?
OTB is a world-leading biobank and I thought that we should stand up and act like leaders by sharing what we have learned. My predecessors at OTB had to build everything from scratch and did an outstanding job. I think it's great that through groups like ISBER and CTRNet (Canadian Tissue Repository Network), we can use our organizational knowledge to lead by example and help other biobanks get off the ground or simply improve their operations. Being actively involved in ISBER has helped to raise awareness about OTB amongst other biobanks and in the scientific community at large. So far our expanded role has been going very well.
What are the issues facing biobanks today and how is ISBER helping to find solutions?
As a global organization, ISBER is really good at dealing with the big sticky issues and advancing the biobanking sector as whole. As always we are looking for ways to harmonize and improve our processes and our approaches to new challenges as they evolve. We do this to ensure our samples are not only useful for researchers today, but also in the future. Working together, the members of ISBER are anticipating future downstream uses of samples and the impact of emerging technologies, such as the growing use and availability of –omics applications, not only from a technical perspective but also regarding complex issues of responsible ethics.
Another big issue for many biobanks is sustainable funding. Often biobanks rely on a single source of funding (e.g., core or individual grants), making them vulnerable in the long term – this is a worldwide issue. ISBER allows us to share information about how to maximize the use of existing funding through sound business practices and effectively communicate the value of biobanking to funding organizations and the pharmaceutical industry.
Lastly, ISBER plays a lead role in shaping science policy as it relates to the collection and use of biospecimens in research. ISBER rallies the biobanking community to provide feedback to draft policies and initiatives that can impact biobanking practice. For example, ISBER provided feedback to the World Medical Association's recent policy statement on research involving human subjects, which included specific reference to biobanking. We are also liaising with the International Standards Organization (ISO) as it develops and implements an accreditation program for biobanks.
How has being involved in ISBER benefitted OTB and research here at home?
In addition to the sharing of best practices and experiences that I mentioned before, being heavily involved in ISBER has provided me with a wealth of information that I can use to improve how we do things at OTB or get ready for an anticipated change. For example, if there is new thinking emerging about something as seemingly simple as ischemia time and its effect on downstream research, I can take that info and make sure that OTB is ready for that type of change. Over the years OTB has shared its expertise with several individual biobanks through site visits and consultations. Having a seat at the table also allows us to influence decisions affecting the greater sector based upon OTB's experiences, contributing to the development of the field globally.