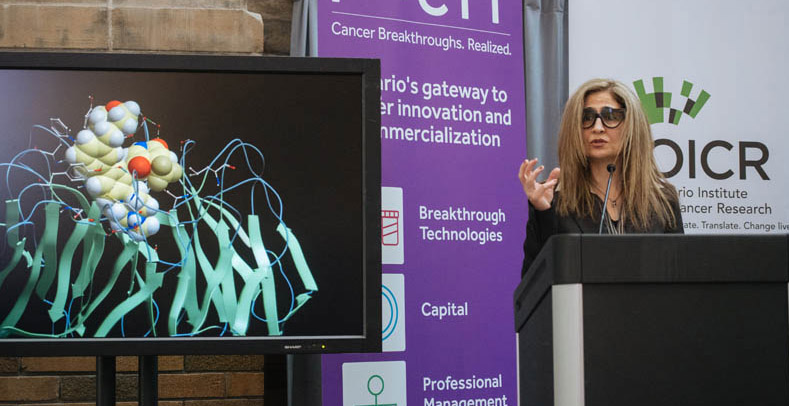 In a contribution to The Globe and Mail titled "For Innovation, open science means business", E. Richard Gold and Max Morgan point to the recent investment by U.S. pharmaceutical giant Celgene into a potential treatment for leukemia developed by OICR researchers, as an example of how Canada can successfully commercialize its scientific discoveries. The authors note that the uniquely Canadian approach employed by FACIT and OICR working together will, unlike other strategies, keep the intellectual property (IP) in Canada longer and see research and development, clinical trials and other outcomes, benefit Canada and Ontario.
Gold and Morgan point out that it was an open science collaboration between OICR and the University of Toronto's Structural Genomics Consortium (SGC) that allowed for the initial scientific discovery behind the new potential drug to take place rapidly, since traditional concerns around IP weren't a factor. This approach allowed FACIT and OICR to move towards targeted drug development much earlier than possible under other models, enabling them to create a patented drug candidate. Gold and Morgan call on Canadian governments to replicate the open science to IP model, which Celgene's investment shows is a viable path to commercialization in Canada.
E. Richard Gold is James McGill professor, McGill Faculty of Law; senior fellow, Centre for International Governance Innovation; former technology lawyer. Max Morgan is chief policy officer and senior counsel, SGC; corporate secretary and legal consultant, M4K Pharma Inc. OICR has provided funding to M4K Pharma Inc. through its Cancer Therapeutics Innovation Pipeline initiative. SGC and OICR are long-term partners.
From the Globe and Mail (subscription required): For Innovation, open science means business