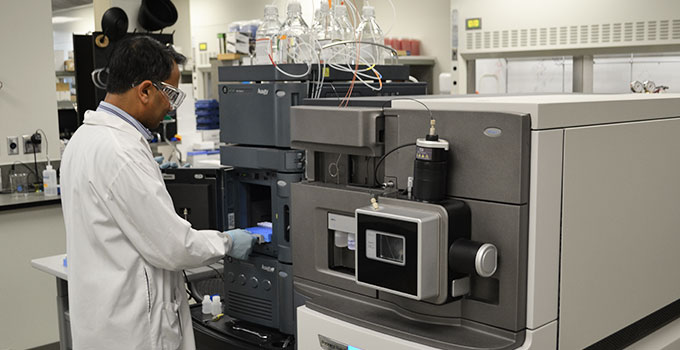 Dr. Rebecca Tamarchak discusses the launch of OICR's new Collaborative Research Resources Directory, how it works, and plans for its development in the future.
Over the past decade, OICR has established state-of-the-art Technology Programs in molecular pathology and diagnostic development, genomics, informatics, medicinal chemistry and imaging, which are translating promising cancer discoveries into products, services and policies that improve cancer prevention and care for patients.
A major theme of our new strategic plan is greater partnership with Ontario's oncology community to help increase the impact of cancer research in the province. While the Institute routinely collaborates with investigators across Ontario, Canada and the globe, up until now we haven't had a clear mechanism for engaging with Ontario cancer researchers who are not directly involved in our research programs.
Today we are taking an important first step in this campaign with the launch of the Collaborative Research Resources Directory, which aims to broaden access to OICR's Technology Program expertise and capabilities to support collaborative cancer research. A new page on the OICR website outlines available resources and simplifies how they can be accessed through cost sharing arrangements.
We are focusing on areas where OICR has unique expertise, and have recently completed a survey of the community to canvass technology needs in order to prioritize our efforts. We'd like to thank the large number of researchers who took the time to complete the survey – we've received some excellent feedback that has helped shape the Collaborative Research Resources Directory. We will be carefully monitoring roll out and collecting feedback to refine the model, with plans to begin scaling up the menu of resources in the spring of 2017.
We are starting with our technology resources and over time will expand to include the full suite of translational research enablers that OICR supports, including the Ontario Cancer Research Ethics Board (OCREB), the Canadian Cancer Clinical Trials Network (3CTN), the Ontario Tumour Bank (OTB), as well as training opportunties, and commercialization support through the Fight Against Cancer Innovation Trust (FACIT). We will also promote awareness of other facilities and resources in Ontario so that researchers are able to easily locate and capitalize on provincial capacity to accelerate their research.
We invite you to visit the webpage to learn more about OICR's Technology Program capabilities, and we welcome your feedback and suggestions. Please feel free to send any questions or comments about the Directory to me at rebecca.tamarchak@oicr.on.ca. Questions specific to accessing OICR resources may be sent to Ms. Elliann Fairbairn (elliann.fairbairn@oicr.on.ca), Technology Access Coordinator.

Dr. Rebecca Tamarchak is Director of Strategic Planning and Performance at OICR, and is leading the development and implementation of the Collaborative Research Resources Directory.