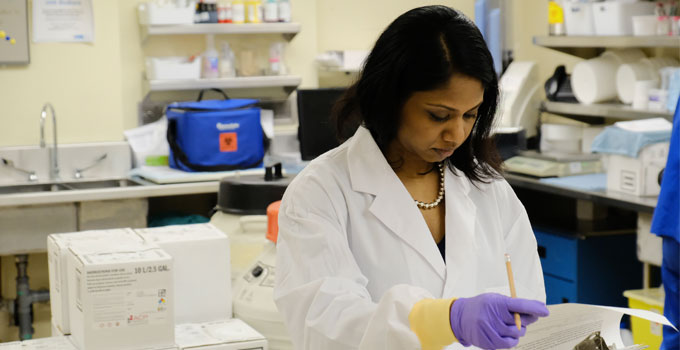 University Health Network pathologist teams up with OICR researchers to develop an improved pancreatic cancer classification test that can better predict the severity of the disease
Under a microscope, pancreatic cancer often looks like a haphazard collection of cells with various shapes and sizes, but Dr. Sangeetha N Kalimuthu saw something different.
She had been analyzing hundreds of pancreas resections, which are classified using the current three-tiered staging system – well, moderate and poor – but found that the vast majority of cases fell into the moderate category, offering little information to physicians about how best to treat these patients.
N Kalimuthu, a gastrointestinal pathologist at the University Health Network (UHN), noticed that certain patterns in cell shape matched the molecular profile of tumours with poorer survival for patients. She teamed up with Drs. Runjan Chetty and Steven Gallinger at UHN to see if what she noticed was true. Gallinger is Director of OICR's PanCuRx Translational Research Initiative.
In a study recently published in Gut BMJ, the study group assessed more than 800 pancreatic ductal adenocarcinoma (PDAC) slides and developed an improved classification method that could help differentiate patients with the most aggressive tumours.
"Our aim was to revise and reappraise the current grading system to find features that correlated with these molecular subtypes," says N Kalimuthu.
By linking molecular profiles of tumours with their appearance, N Kalimuthu was able to develop a classification method that can be easily integrated into current pathology laboratories.
"Any pathologist in any part of the world can do this," says N Kalimuthu. "It's the bread and butter of what pathologists do. It's fast, cheap and accessible."
N Kalimuthu also says that this method can be augmented using deep learning methods to reduce turn-around times and variability from one pathology laboratory to another.
"Pathologists have had a long, rich history in their vital roles to diagnose and stage pancreas cancer," says Gallinger, who is co-author of the publication. "This study is an elegant demonstration of the potential of personalized medicine, with the promise of improved outcomes for our patients."