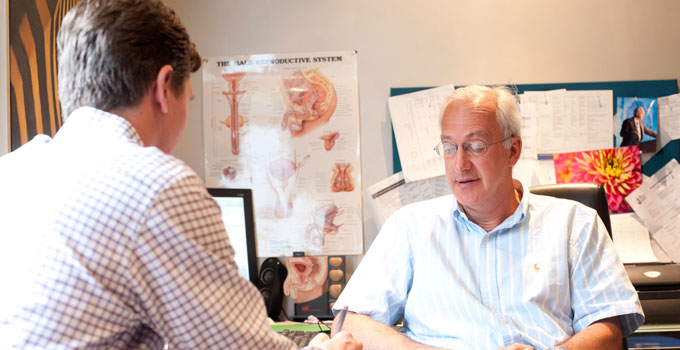 OICR-funded clinical trial shows value in advanced biopsy techniques for men with low-risk prostate cancer
Many of the 23,000 men across Canada who will be diagnosed with prostate cancer this year won't need aggressive treatment. Instead, men with low-risk or slow-growing cancers may be offered 'active surveillance', where their healthcare team monitors their cancer closely with regular tests, scans and biopsies. Dr. Laurence Klotz, a world leader in active surveillance, is working to improve how surgeons in Ontario and across Canada perform these important prostate biopsies.
Klotz, who is a leading urologic surgeon and researcher at Sunnybrook Health Sciences Centre, teamed up with collaborators in London, Hamilton, Kitchener and Toronto to bring the latest MRI-guided prostate biopsy techniques to patients across the province. With OICR's support, they evaluated the use of MRI-targeted biopsies, where a surgeon uses MRI images to help guide biopsy needles, relative to traditional biopsies, and found that the use of MRI results in 50 per cent fewer failures of surveillance. The findings from their two-year study were recently published in European Urology.
"As shown in other countries like the U.K. and Australia, using MRI before biopsies can reduce the diagnosis of insignificant cancers, selectively find aggressive cancers and reduce the number of false negatives," says Klotz. "Our study showed that using MRI allows us to better pinpoint prostate cancers as they progress."
Learnings from this study have helped inform the design of a new trial, called PRECISE, that is evaluating whether MRI can replace biopsies and spare some men from the associated side effects. Results from PRECISE will be submitted for publication in the next few months.
"We've laid the groundwork for better prostate cancer diagnosis," says Klotz. "This means we're one step closer to ensuring each man receives the most appropriate treatment for his individual cancer."