A telephone-based toxicity management program was shown to improve quality of life for chemotherapy patients and reduce the severity of side effects, but did not reduce hospital visits between treatments.
For cancer patients on chemotherapy, time between treatments can be fraught with illness and uncertainty.
Nausea, fatigue, diarrhea and pain are all potential symptoms of toxicity, which occurs as a side effect when chemotherapy drugs damage healthy cells as well as cancer cells. Though common, these side effects can be severe. And it's hard for patients at home to know when they are serious enough to need medical attention.
"There is a constant question about the severity of toxicity symptoms and how to handle them," explains Dr. Eva Grunfeld, Professor of Family Medicine at the University of Toronto and Clinician Scientist at the Ontario Institute for Cancer Research (OICR).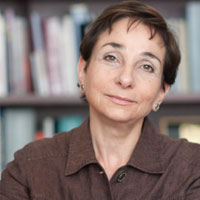 "Patients and their family caregivers are constantly evaluating: 'Are these symptoms okay or not okay? Are they serious enough that we need to go to hospital?'"
Many patients receiving chemotherapy will visit the emergency department or be admitted to hospital at least once during their treatment. These trips to hospital can be difficult for patients and put strain on the health system, leading researchers to explore proactive approaches to better support patients and reduce acute care visits.
An OICR-funded study led by Dr. Grunfeld and Dr. Monika Krzyzanowska recently evaluated one potential option: a remote symptom management program where oncology nurses call patients at home at key times during each cycle of their chemotherapy treatment.
"When a patient is at home potentially experiencing symptoms of toxicity, a call from an oncology nurse can help them with their symptom management," says Dr. Krzyzanowska, a medical oncologist and Professor of Medicine at the University of Toronto. "The theory is that this kind of proactive interaction can help catch symptoms of toxicity earlier."
The program was trialed with patients in treatment for early stage breast cancer in 20 Ontario cancer centres. The results, recently published in BMJ, suggest that it was associated with less severe toxicity symptoms and better quality of life, but did not impact the number of times patients visited the emergency department or were admitted to hospital.
Dr. Krzyzanowska says the improvements to patient outcomes, which were measured via questionnaires, are encouraging. They echo findings from the team's earlier pilot study and other similar studies, which also showed that these kinds of programs are well-received by patients and healthcare providers.
Though it didn't make in impact on visits to acute care, Dr. Krzyzanowska says that making some tweaks to the program's target group – or potentially pairing it with another intervention – could help realize its full potential for patients and the health system. She notes that the study has become even more relevant since the COVID-19 pandemic because of Ontario's increased reliance on remote care delivery.
"I strongly believe that we need some sort of a proactive toxicity monitoring program for patients undergoing cancer chemotherapy," Dr. Krzyzanowska says. "The question is really about how."
Beyond the findings, the study makes an important methodological contribution by measuring its primary outcome – the number of acute care visits – using routinely collected administrative health data. This approach is rare for a randomized trial and provides more accurate and comprehensive measurement.
For Dr. Grunfeld, the study offers promising evidence that researchers can build upon to explore province-wide options to manage the side effects of chemotherapy. She has seen many patients struggle with toxicity in her practice, and experienced toxicity intimately when her husband underwent chemotherapy recently. She says a program like this could offer much-needed support and comfort during those difficult days between treatment.
"Toxicity is an enormous thing to have to manage and worry about," she says. "I can really empathize with how knowing someone will be checking in is really important."