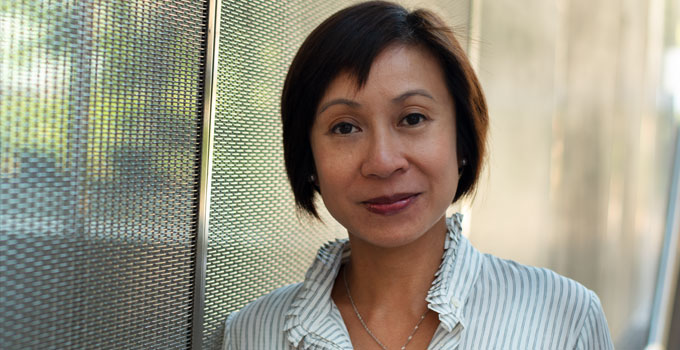 OICR welcomes Dr. Christina Yung as Director of Genome Informatics. Yung is returning to OICR from the University of Chicago where she led and managed the National Cancer Institute's Genomic Data Commons (GDC) – a unified data system that promotes the sharing of genomic and clinical data between researchers.
At OICR, Yung will be leading a team of software engineers, infrastructure specialists and bioinformaticians who are building tools to empower and accelerate cancer research discoveries. Here, Yung describes why she's coming back to Ontario and what "big data" means to her.
How have you been involved with OICR in the past and what brings you here today?
I worked at OICR in the past as a scientific associate and then a scientific project manager for the International Cancer Genome Consortium (ICGC) PanCancer Analysis of Whole Genomes (PCAWG) project. I started here after completing my PhD training and worked here for almost nine years before moving to Chicago to work with the GDC team. It's a natural extension for me to return to Ontario and I'm pleased to be taking on this Director role.
What does your research focus on? What draws you to these projects?
I'm passionate about human diseases and I'm interested in the opportunities that "big data" creates – and right now, there is more data on cancer than ever before. This includes genomic data, imaging data, immunologic data and electronic health records. My work focuses on integrating and sharing these data to make discoveries.
What new experience did you gain while in Chicago?
While in Chicago, I worked on the GDC, which curated, harmonized and made available more than two petabytes of genomic and clinical data to researchers along with visualization tools. The GDC has ~1,500 unique users per day, and ~100,000 unique users per year. I helped design and maintain the systems that provide secured access to these data around the clock. I can now bring this experience back to OICR to build new features and software stacks that are very robust at a large scale.
What will you be working on at OICR?
My predecessor in this role is Dr. Vincent Ferretti, and I have great respect for his work. I'll be taking the baton from him and continuing the projects that he has already started. For example, my team will be maintaining the ICGC data portal that allows users to query and visualize the genomics and clinical data from 25,000 primary untreated cancers. Simultaneously, we will develop a new data portal for ICGC-ARGO, which will integrate data access with cloud based analysis, and provide more visualization and annotation capabilities to help answer key clinical questions. We will also expand the Cancer Genome Collaboratory as one of the Regional Data Processing Centers for ICGC-ARGO. In addition, we will continue OICR's collaboration with the University of Chicago on the GDC. Lots of exciting work ahead.
What are you most looking forward to?
I am really looking forward to working with the Genome Informatics team at OICR. The team is very talented, creative and dedicated to their projects. I'm excited to work closely with them and expand on the creative ideas that they have for improving data access and sharing. I have always been impressed by the team dynamic as evidenced from their commitment to sharing insights with the community through their Software Engineering Blog.
In a field where you can work anywhere in the world, why OICR?
I'm excited to come back to OICR because of the great opportunities for collaboration that the Institute has created. Both within the Institute and around Ontario, OICR has a strong network of researchers from many different fields of expertise. For example, the Adaptive Oncology platform brings together researchers with expertise in bioinformatics, pathology, imaging and genome sequencing, amongst other disciplines. This type of collaborative environment is not only important to the projects that I work on, but I think it's really important for the future of cancer research.