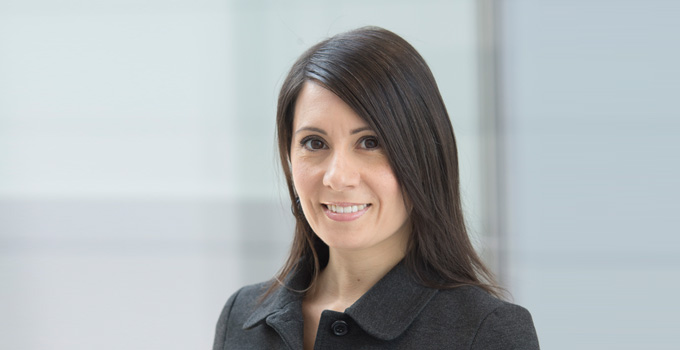 The Ontario Tumour Bank's longstanding leader appointed Secretary of International Society for Biological and Environmental Repositories
The International Society for Biological and Environmental Repositories (ISBER) today announced the appointment of Monique Albert as Secretary of the Society's Board of Directors.
With two decades of experience in research and biobanking and three years of experience on the Society's Board as Director-at-Large Americas, Albert has been re-elected to the Board into the executive role of Secretary.
In her new position, Albert will lead the maintenance of ISBER by-laws, policies and procedures affecting nearly 1,000 ISBER members who lead hundreds of biobanks around the world. While assuming this role, Albert will continue to serve as Director of the Ontario Tumour Bank at OICR, a position that she has held for more than seven years.
Here, she reflects on her new role and her experiences to date.
How did you become involved in preserving human specimens for research?
MA: I began working directly with human specimens as a researcher in 2001, using cutting-edge technologies to analyze human samples. It was through this experience that I realized the utmost importance of preserving and maintaining the quality of these specimens to generate the most reproducible data. Good biological science is built on good data, which can only come from well-preserved samples.
When I recognized the importance of these invaluable samples, I began developing initiatives to improve biobanking practices at my local research institute. I've been building on those initiatives ever since.
Quality is an important aspect of your work. How do you make quality maintenance sustainable?
MA: While sample quality is a key element of a biobank's success, it is not the only one that matters. To be successful, a biobank needs to meet current and future research needs, comply with standards and regulations, and operate in a sustainable way for future generations. I'm fortunate to have a background in project management and business planning that helps balance these three elements with limited resources.
As biobanking has become more mainstream, I'm proud that Ontario has consistently been at the forefront of biobanking standards. I've had the privilege of sharing my work with the growing international biobanking community through presenting at conferences and publishing on several occasions.
What are you looking forward to in your new role as Secretary?
MA: Having plenty of experience with ISBER – and ISBER's savvy, inclusive and collaborative members – I know we are making an incredible impact on research. I'm honoured to be elected to this role and to continue to volunteer my time for the continued growth of ISBER. My previous experience at ISBER will allow me to hit the ground running and keep the momentum on existing goals and initiatives with the best interests of the Society and its members at heart.
Read more about ISBER's 2020 Election Results or more on Monique Albert's active role within ISBER on OICR News.