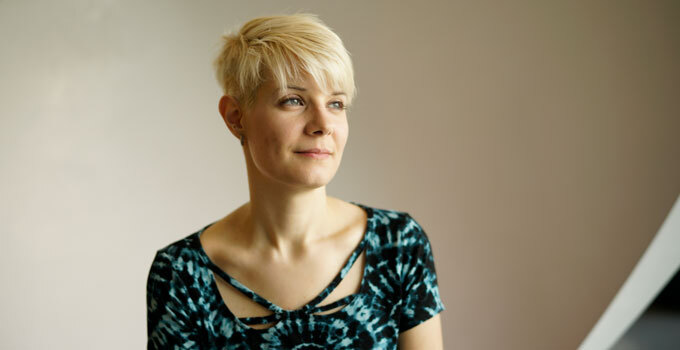 Morgan Taschuk reflects on a decade of supporting critical cancer research and on her new role as OICR's Director of Genome Sequence Informatics
Cancer genomics research depends on infrastructure and analysis tools that collect, process, analyze and annotate vast quantities of valuable sequencing data. Behind these systems at OICR is a team of individuals dedicated to enabling cancer research discoveries. OICR is proud to announce that Morgan Taschuk will now lead this essential team as Director of Genome Sequence Informatics (GSI).
Here, she reflects on her new role and her outlook on the next few years.
Your behind-the-scenes work is essential to the cancer research we do at OICR. How would you describe your work?
Our team makes sequencing data analysis and management easier for researchers and clinicians in several different ways. We create and maintain the infrastructure and computational tools that researchers need to process, analyze and annotate sequencing data, so they can spend their time working on other challenging research questions.
GSI also offers expert bioinformatics support services directly to researchers to collaborate on challenging research projects. In addition, OICR Genomics is pursuing clinical accreditation this year and so we have a team of clinical genome interpreters who can issue reports on a patient's unique genome. There's a lot going on!
How has your work evolved since you've been at OICR?
I began at OICR nearly a decade ago, when most of our bioinformatics work was custom for every project, and our sequencing instruments produced a fraction of the data of instruments today. Any kind of automation was quite limited and the amount of analysis we could scale up was limited by the number of people we could hire. Back then, the biggest projects were analyzing human whole genomes for research and participating in international consortia.
In the last nine years, I've seen us scale up our sequencing and analysis capabilities, expand a fantastic team of highly educated experts from computer science through data analysts to clinical genome interpreters, and reinforce our reputation of excellence in bioinformatics and computational biology. We're doing everything we were doing a decade ago plus much more. We sequence single cells, cell free and circulating tumour DNA, analyze immune profiles, participate in international consortia like ICGC-ARGO, contribute to SARS-CoV-2 projects, and will soon produce clinically accredited genome reports, all while still sequencing whole genomes for research.
Today, our team oversees around two petabytes of data, and runs about 3,000 workflows and about 1.8 terabytes of analysis, per day. Genome Sequence Informatics is a team of about 20 people, including bioinformaticians, software developers and engineers, currently supporting 155 research projects – and their resulting research discoveries – each year.
As the Director of Genome Sequence Informatics, what are you most looking forward to?
This new role allows me to focus on the bigger picture rather than on technical challenges. I see this as an opportunity to unify efforts across teams, departments, and across the institution. For example, if one team that we support is doing a task differently than another, I can help bring them together to work towards a common solution for everyone so we can learn from each other, maintain more consistent quality control, and make the best use of the resources and funds we have. I'm looking forward to more productive interactions with the phenomenal teams at OICR and with other organizations around the country and world.
What are your top priorities over the next couple of years?
My goal over the next few years is to share what we've created with the community while growing our network. We'll continue to create solutions to fulfill the evolving needs of researchers and clinicians. We'll continue to publish our code so other bioinformaticians can confirm what we've done and start their own analysis pipelines. We'll publish protocols and guidelines that we've created for our clinically accredited analysis as well as our core assays. And we'll share our challenges and solutions with the community so we can build on our collective expertise. In addition, we'll reach out to other teams and organizations to collaborate and learn from them. The bioinformatics, software development, and clinical genomics communities have vast knowledge that we want to take advantage of, improve and share.
The next couple of years for GSI are going to be about collaborative, open science so the scientific and clinical communities can all benefit from the progress made by Genome Sequence Informatics and OICR as a whole.