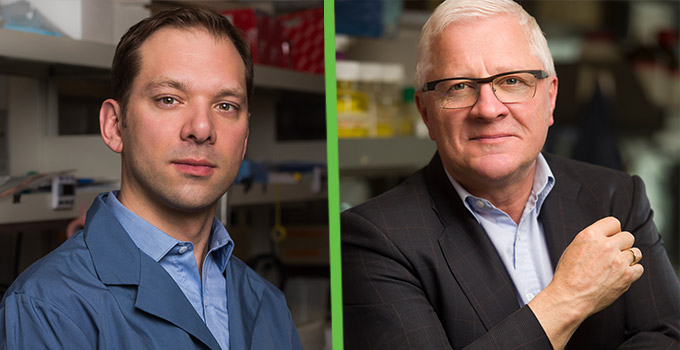 OICR-funded researchers open a new path to discover drivers of chemotherapy resistance and cancer relapse
Stem cells have the capability to self-renew and create other types of cells, but not all stem cells are equal. OICR-supported researchers at the Princess Margaret Cancer Centre, Drs. Mathieu Lupien and John Dick, have discovered a new way to distinguish the self-renewing capabilities of stem cells, revealing new ways to study the origins of cancer and cancer recurrence.
In their recently published study in Cell Stem Cell, Lupien, Dick and collaborators identified how some blood – or hematopoetic – stem cells can self-renew but others lose that ability. They found differences in the three-dimensional structure of the genetic information between different stem cell types.
DNA within each human cell, including stem cells, is coiled and compacted in a highly regulated way into structures called chromatin. Depending on how DNA is compacted into chromatin, some regions of DNA are accessible to gene-expressing cellular machinery while some aren't, influencing how genes are expressed and how a cell may behave. The study group identified that this chromatin accessibility is a key component of a cell's self-renewing capabilities and "stemness".
"Enabled by the latest technologies, we found that the pattern of closed – or inaccessible – regions of DNA and the open or accessible regions differ between the long-term self-renewing stem cells and other more mature blood cell populations" says Lupien, Senior Scientist at the Princess Margaret Cancer Centre, Associate Professor at the University of Toronto and OICR Investigator.
The study discovered that the self-renewal capabilities are specifically linked to parts of the genome that bind a protein that is responsible for chromatin folding, called CTCF. As cancer researchers, Lupien and Dick are now applying these discoveries made in normal stem cells to study cancer stem cells. It is thought that if a cancer treatment cannot eliminate the cancer's stem cells, these surviving self-renewing cells can give rise to recurrent tumours. With a better understanding of cancer stem cells, researchers can investigate the roots of cancer and how to potentially target or manipulate the mechanisms behind self-renewal.
This breakthrough study was made possible by Lupien's expertise in epigenetics, the field that studies gene expression, Dick's expertise in stemness and blood development, and the contributions of collaborators and trainees, including Drs. Naoya Takayama and Alex Murison who led the wet lab assays and bioinformatics analyses respectively.
"Understanding how stemness is controlled is key to being able to harness the power of stem cells for cell-based therapies, but also to understand how malignant cells perturb stemness to allow the cancer stem cells to continue to propagate tumor growth," says Dick, Senior Scientist at the Princess Margaret Cancer Centre, Professor at the University of Toronto and lead of OICR's Acute Leukemia Translational Research Initiative. "We look forward to furthering our understanding of hematopoiesis and bringing these insights closer to clinical application."