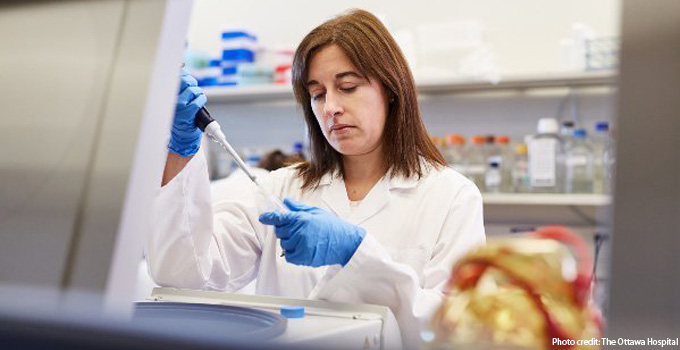 Ottawa researchers discover a new way to make cancer cells more susceptible to virus-based therapies
Over the past decade, researchers have made significant progress in designing oncolytic viruses (OVs) – viruses that destroy cancer cells while leaving healthy tissue unharmed. However, some cancer cells are resistant to this type of therapy and their resistance mechanisms remain poorly understood.
Researchers at the The Ottawa Hospital and University of Ottawa, under the leadership of Dr. Carolina Ilkow, have discovered that a common cellular mechanism, RNAi, allows cancer cells to fight back against cancer-fighting viruses. Their findings, recently published in the Journal for Immunotherapy of Cancer, show that blocking RNAi processes in tumours can make cancer cells more susceptible to OVs.
"It was interesting and unexpected to find that a common cell function, RNAi, plays such an important role in OV resistance," says Ilkow. "We found that stopping RNAi in cancer cells made the cells vulnerable to virus-based therapies. In essence, we found a way to remove the armour that a tumour uses to defend itself."
In their investigation, Ilkow and the research team designed an OV that could block RNAi processes in tumours using Nodamura virus protein B2. They found that blocking RNAi enhanced the OV's ability to kill cancer cells. Although RNAi was never thought to be involved in fighting viruses in humans, their research showed that this process is an important aspect to consider when designing OVs and overcoming OV resistance.
"We can use this new insight to design viruses that could – one day – destroy cancer cells more effectively," says Ilkow. "The better we understand how a cancer cell defends itself, the better we can fight it."
This study was partially funded by OICR through the Immuno-oncology Translational Research Initiative (TRI) and was conducted in collaboration with the laboratory of Dr. John Bell, Scientific Leader of the TRI.