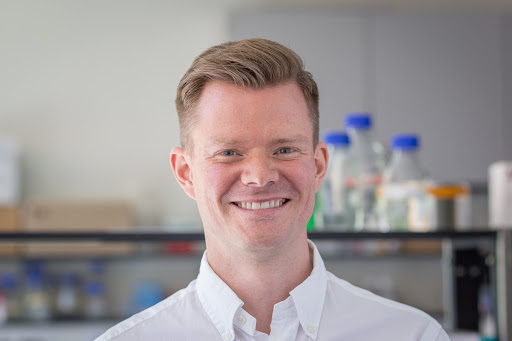 Contact
Dr. Hartland Jackson
Early-Career Investigator
Early-Career Investigator
The coordinated activity of many individual cells is necessary for the function of healthy tissues but can also drive cancer progression. Dr. Jackson's research program investigates the locations and relationships between different cell types, their mechanisms of communication, and their use as high-dimension pathology biomarkers of disease in clinical samples. He aims to understand the formation and evolution of tissues and tumours as multi-cell systems.
Dr. Jackson is a leader in imaging mass cytometry and is the most experienced user of the Hyperion Imaging System worldwide. He developed the histoCAT computational toolbox for interactively investigating highly multiplex imaging mass cytometry data and has applied these methods to quantify the cellular architecture of breast cancer. He is now extending this approach to other cancers and complementary mouse model systems in order to identify and target multi-cellular mechanisms of cancer progression and therapeutic resistance.
Dr. Jackson is an Investigator at Sinai Health's Lunenfeld-Tanenbaum Research Institute.
Experience & Education
Postdoctoral Fellow, University of Zurich
PhD, Princess Margaret Cancer Centre, University of Toronto
Current Affiliations
Early-Career Investigator, OICR
Investigator, Lunenfeld-Tanenbaum Research Institute, Sinai Health
Research Areas
Disease Areas
Awards
Cancer Research Society Scholarship for the Next Generation of Scientists, 2018
Canadian Institute of Health Research Post-Doctoral Fellowship, 2016
SystemsX Transitional Post-Doctoral Fellowship, 2015
European Molecular Biology Organization Long-Term Fellowship, 2015
Opportunities to Collaborate
To collaborate with Dr. Jackson, please contact him directly.
Visit OICR's Collaborative Research Resources directory for more opportunities to collaborate with OICR researchers.
Looking Ahead
Receive the latest news, event invites, funding opportunities and more from the Ontario Institute for Cancer Research.