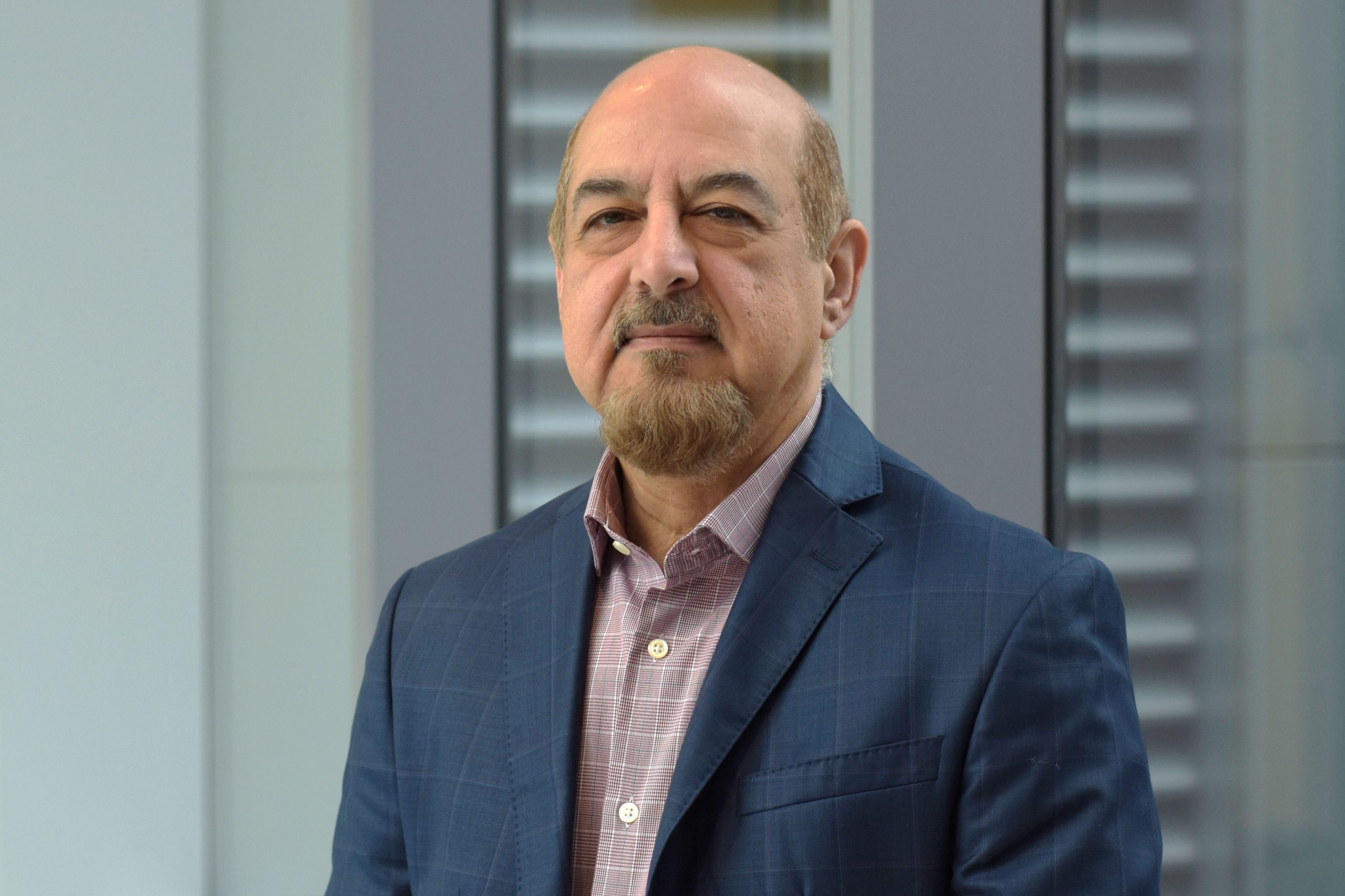 Contact
Dr. Masoud Vedadi
Senior Scientific Advisor, Drug Discovery Program
Senior Scientific Advisor, Drug Discovery Program
Dr. Masoud Vedadi's team focus on biophysical and biochemical characterization of drug targets, and the discovery of small molecule that modulate their activities.
His research particularly focuses on epigenetic targets and histone posttranslational modifications, modulating the function of drug targets through active site directed inhibitors, and antagonizing protein-protein interactions of key protein complexes. Dr. Vedadi's lab is also interested in the regulation of protein degradation and in the development of PROTACs for the degradation of challenging targets. Building on his extensive and highly successful international collaborations with pharmaceutical companies and academic labs worldwide, he continues to build alliances towards accelerating early-stage drug discovery.
Research interests
The role of epigenetics in human diseases and particularly in cancers has been well established. Many enzymes involved in posttranslational modification of histones, such as histone lysine and arginine methyltransferases (PKMTs and PRMTs), demethylases, and acetyltransferases have been validated as targets for the development of cancer therapeutics. Dr. Vedadi's lab is interested in the (1) characterization of epigenetic drug targets and the (2) development of small molecule active site directed and allosteric inhibitors, in addition to inactivation and destabilization of protein complexes. His lab has successfully contributed to the development of potent, selective, and cell active small molecules modulating the activity of more than 20 epigenetic targets. In addition to this approach, (3) he will characterize ubiquitin regulatory enzymes towards development of Proteolysis Targeting Chimeras (PROTACs) for targets that may have been more difficult to drug. These approaches will be employed for the discovery of therapeutics for promising cancer targets. Moreover, (4) Dr. Vedadi's lab studies the crosstalk between histone posttranslational modifications in vitro through a combination of enzymology and mass spectrometry.
With the start of the COVID-19 pandemic, Dr. Vedadi's lab began the characterization of SARS-CoV-2 nsp14 and nsp10-nsp16 complex, the two SARS-CoV-2 RNA methyltransferases (MTs) and nsp13, an ATPase/Helicase. He has discovered and reported various potent inhibitors of nsp14, nsp10-nsp16, and nsp13 within an extensive network of international collaborations. Currently, in addition to his continued efforts in development of SARS-CoV-2 nsp14 and nsp10-nsp16 complex inhibitors, his research focuses on the development of therapeutics to prevent future pandemics as a member of a NIH funded QBI COVID-19 Research Group (QCRG), San Francisco, CA, U.S. His research includes coronaviruses that have infected humans so far (OC43, NL63, 229E, MERS, HKU1), and other potential pandemic causing viruses.
Experience & Education
Principal Investigator, Molecular Biophysics, Structural Genomics Consortium (SGC), University of Toronto
Associate Director of Protein Science, Affinium Pharmaceuticals
PhD, Biochemistry, McGill University
Current Affiliations
Senior Scientific Advisor, Ontario Institute for Cancer Research, Drug Discovery Program
Associate Professor, University of Toronto, Department of Pharmacology and Toxicology
Associate Graduate Faculty Member, University of Toronto, Department of Pharmacology and Toxicology
Select Publications
Yazdi AK, Pakarian P, Perveen S, Hajian T, Santhakumar V, Bolotokova A, Li F, Vedadi M*. (2022) Kinetic Characterization of SARS-CoV-2 nsp13 ATPase Activity and Discovery of Small-Molecule Inhibitors. ACS Infect Dis. 8(8):1533-1542. PMID: 35822715.
Martin Klima, Aliakbar Khalili Yazdi, Fengling Li, Irene Chau, Taraneh Hajian, Albina Bolotokova, H Ümit Kaniskan, Yulin Han, Ke Wang, Deyao Li, Minkui Luo, Jian Jin, Evzen Boura*, Masoud Vedadi* (2022) Crystal structure of SARS-CoV-2 nsp10-nsp16 in complex with small molecule inhibitors, SS148 and WZ16. Protein Sci. 31(9):e4395. doi: 10.1002/pro.4395. PMID: 36040262.
Tomas Otava, Michal Šála, Fengling Li, Jindřich Fanfrlík, Kanchan Devkota, Sumera Perveen, Irene Chau, Paknoosh Pa-karian, Pavel Hobza, Masoud Vedadi*, Evzen Boura*, Radim Nencka* (2021) Structure-based design of SARS-CoV-2 nsp14 methyltransferase ligands yields nanomolar inhibitors. ACS Infect Dis. PMID: 34152728.
Kanchan Devkota, Matthieu Schapira, Sumera Perveen, Aliakbar Khalili Yazdi, Fengling Li, Irene Chau, Pegah Ghiabi, Taraneh Hajian, Peter Loppnau, Albina Bolotokova, Karla J F Satchell, Ke Wang, Deyao Li, Jing Liu, David Smil, Minkui Luo, Jian Jin, Paul V Fish, Peter J Brown, Masoud Vedadi* (2021) Probing the SAM Binding Site of SARS-CoV-2 nsp14 in vitro Using SAM Competitive Inhibitors Guides Developing Selective bi-substrate Inhibitors. SLAS Discov.  PMID: 33619486.
Allali-Hassani A, Szewczyk MM, Ivanochko D, Organ SL, Bok J, Ho JSY, Gay FPH, Li F, Blazer L, Eram MS, Halabelian L, Dilworth D, Luciani GM, Lima-Fernandes E, Wu Q, Loppnau P, Palmer N, Talib SZA, Brown PJ, Schapira M, Kaldis P, O'Hagan RC, Guccione E, Barsyte-Lovejoy D, Arrowsmith CH, Sanders JM, Kattar SD, Bennett DJ, Nicholson B*, Vedadi M*. (2019) Discovery of a chemical probe for PRDM9. Nat Commun. 10(1):5759. doi: 10.1038/s41467-019-13652-x. PMID: 31848333.
Xu C, Meng F, Park KS, Storey AJ, Gong W, Tsai YH, Gibson E, Byrum SD, Li D, Edmondson RD, Mackintosh SG, Vedadi M, Cai L, Tackett AJ, Kaniskan HÜ, Jin J, Wang GG. (2021) A NSD3-targeted PROTAC suppresses NSD3 and cMyc oncogenic nodes in cancer cells. Cell Chem. Biol. S2451-9456(21)00393-7. PMID: 34469831
Li ASM, Li F, Eram MS, Bolotokova A, Dela Seña CC, Vedadi M*. (2019) Chemical probes for protein arginine methyltransferases. Methods. 175:30-43. doi: 10.1016/j.ymeth. PMID: 31809836.
Masoud Vedadi*, Levi Blazer, Mohammad S. Eram, Dalia Barsyte-Lovejoy, Cheryl H. Arrowsmith, and Taraneh Hajian (2017) Targeting human SET1/MLL family of proteins. Protein science. PMID: 28160335.
Zhao DY, Gish G, Braunschweig U, Li Y, Ni Z, Schmitges FW, Zhong G, Liu K, Li W, Moffat J, Vedadi M, Min J, Pawson TJ, Blencowe BJ, Greenblatt JF. (2016) SMN and symmetric arginine dimethylation of RNA polymerase II C-terminal domain control termination. Nature. 529(7584):48-53. PMID: 26700805.
Ss Zhu J, Sammons MA, Donahue G, Dou Z, Vedadi M, Getlik M, Barsyte-Lovejoy D,Al-awar R, Katona BW, Shilatifard A, Huang J, Hua X, Arrowsmith CH, Berger SL (2015) Gain-of-function p53 mutants co-opt chromatin pathways to drive cancer growth. Nature. PMID: 26331536.
Grebien F*, Vedadi M*, Getlik M, Giambruno R, Grover A, Avellino R, Skucha A, Vittori S, Kuznetsova E, Smil D, Barsyte-Lovejoy D, Li F, Poda G, Schapira M, Wu H, Dong A, Senisterra G, Stukalov A, Huber KV, Schönegger A, Marcellus R, Bilban M, Bock C, Brown PJ, Zuber J, Bennett KL, Al-Awar R, Delwel R, Nerlov C, Arrowsmith CH, Superti-Furga G. (2015) Pharmacological targeting of the Wdr5-MLL interaction in C/EBPα N-terminal leukemia. Nat. Chem. Biol. PMID: 26167872.
Andreas Ernst, George Avvakumov, Jiefei Tong, Yihui Fan, Yanling, Zhao, Philipp Alberts, Avinash Persaud, John R. Walker, Ana-Mirela Neculai, Dante Neculai, Andrew Vorobyov, Pankaj Garg, Linda Beatty, Pak-Kei Chan, Yu-Chi Juang, Marie-Claude Landry, Christina Yeh6, Elton Zeqiraj, Konstantina Karamboulas, Abdellah Allali-Hassani, Masoud Vedadi, Mike Tyers, Jason Moffat, Frank Sicheri, Laurence Pelletier, Daniel Durocher, Brian Raught, Daniela Rotin, Jianhua Yang, Michael F. Moran, Sirano Dhe-Paganon and Sachdev S. Sidhu (2013) A Strategy for Modulation of Enzymes in the Ubiquitin System. Science. PMID:  23287719.
Guillermo Senisterra, Hong Wu,Abdellah Allali-Hassani, Gregory A Wasney, Dalia Barsyte-Lovejoy, Ludmila Dombrovski, Aiping Dong, Kong T. Nguyen, David Smil, Yuri Bolshan, Taraneh Hajian, Hao He, Alma Seitova, Irene Chau, Fengling Li, Gennadiy Poda, Jean-François Couture, Peter J. Brown, Rima Al-awar, Matthieu Schapira, Cheryl H. Arrowsmith and Masoud Vedadi* (2012) Small molecule inhibition of MLL activity by disruption of its interaction with WDR5. Biochem. J., PMID: 22989411.
Alena Siarheyeva, Guillermo Senisterra, Abdellah Allali-Hassani, Aiping Dong, Elena Dobrovetsky, Gregory Wasney, Irene Chau, Richard Marcellus, Taraneh Hajian, Feng Liu, Ilia Korboukh, David Smil, Yuri Bolshan, Jinrong Min, Hong Wu, Hong Zeng, Peter Loppnau, Gennadiy Poda, Carly Griffin, Ahmed Aman, Peter J. Brown, Jian Jin, Rima Al-awar, Cheryl Arrowsmith, Matthieu Schapira and Masoud Vedadi* (2012) An Allosteric Inhibitor of Protein Arginine Methyltransferase 3. Structure. PMID: 22795084
Masoud Vedadi, Dalia Barsyte-Lovejoy, Feng Liu, Sylvie Rival-Gervier, Abdellah Allali-Hassani, Viviane Labrie, Tim J. Wigle, Peter A. DiMaggio, Gregory A. Wasney, Alena Siarheyeva, Aiping Dong, Wolfram Tempel1, Sun-Chong Wang, Xin Chen, Irene Chau, Thomas J. Mangano, Xi-ping Huang, Catherine D. Simpson, Samantha G. Pattenden, Jacqueline L. Norris, Dmitri B. Kireev, Ashutosh Tripathy, Aled Edwards, Bryan L. Roth, William P. Janzen, Benjamin A. Garcia, Arturas Petronis, James Ellis, Peter J. Brown, Stephen V. Frye, Cheryl H. Arrowsmith & Jian Jin (2011) A chemical probe selectively inhibits G9a and GLP methyltransferase activity in cells. Nat Chem Biol. PMID: 21743462.
Derek F. Ceccarelli, Xiaojing Tang, Benoit Pelletier, Stephen Orlicky, Weilin Xie, Veronique Plantevin, Dante Neculai, Yang-Chieh Chou, Abiodun Ogunjimi,1 Abdallah Al-Hakim, Xaralabos Varelas, Joanna Koszela, Gregory A. Wasney, Masoud Vedadi, Sirano Dhe-Paganon, Sarah Cox, Shuichan Xu, Antonia Lopez-Girona, Frank Mercurio, Jeff Wrana, Dan Durocher, Sylvain Meloche, David R. Webb, Mike Tyers and Frank Sicheri (2011) An Allosteric Inhibitor of the Human Cdc34 Ubiquitin-Conjugating Enzyme. Cell. PMID: 21683433.
Niesen FH, Berglund H, Vedadi M (2007) The use of differential scanning fluorimetry to detect ligand interactions that promote protein stability. Nat Protoc. 2(9):2212-21.
Vedadi M, Niesen FH, Allali-Hassani A, Fedorov OY, Finerty PJ Jr, Wasney GA, Yeung R, Arrowsmith C, Ball LJ, Berglund H, Hui R, Marsden BD, Nordlund P, Sundstrom M, Weigelt J, Edwards AM. (2006) Chemical screening methods to identify ligands that promote protein stability, protein crystallization, and structure determination. Proc. Natl. Acad. Sci. U S A. 103 (43):15835-40.
Masoud Vedadi*, Cheryl H. Arrowsmith, Abdellah Allali-Hassani, Guillermo Senisterra and Gregory A. Wasney (2010) Biophysical Characterization of Recombinant Proteins: A key to higher structural genomics success. J. Struct. Biol. 172(1):107-19. PMID: 20466062.
Opportunities to Collaborate
Dr. Vedadi's lab is interested in collaboration with pharmaceutical companies and academic labs world-wide on projects towards development of therapeutics for cancers and pandemic causing diseases.
Tools
Vedadi's lab has developed assays and characterized more than 100 drug targets including more than 35 RNA, DNA, and protein methyltransferases, more than 10 DUBs, a number of acetyltransferases, E3 ligases and proteins from other families of proteins.
Development of more than 20 chemical probes for validated drug targets.
Looking Ahead
Receive the latest news, event invites, funding opportunities and more from the Ontario Institute for Cancer Research.