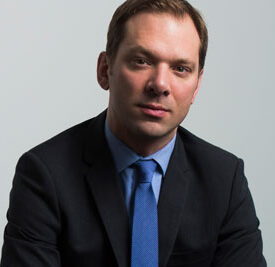 Contact
Dr. Mathieu Lupien
Mid-Career Investigator
Mid-Career Investigator
Dr. Lupien works to characterize and understand the role of noncoding regulatory elements as targets of genetic and epigenetic changes in oncogenesis. Dr. Mathieu Lupien is a Senior scientist at the Princess Margaret Cancer Centre and holds a cross-appointment with OICR.
Lupien's research highlights the need to characterize the epigenetic basis of cancer to understand the role of the noncoding cancer genome and identify new therapeutic opportunities and complementary markers of response.
Lupien is recognized for three seminal discoveries:
Epigenetic modifications on histones can discriminate cell-type-specific-noncoding gene regulatory elements in normal and cancer cells.
Epigenetic alterations at gene regulatory elements underlie cancer initiation and progression.
Noncoding genetic alterations promoting cancer development preferentially target gene regulatory elements.
Lupien's research is centered on identifying the epigenetic changes in cancer cells and to reveal their underlying molecular biology. The ultimate goal is to develop new and improved strategies to hinder cancer development.
Experience & Education
Scientist, The Princess Margaret Cancer Centre
Assistant Professor, Department of Medical Biophysics, University of Toronto
Director, Quantitative Epigenomics Laboratory, Institute for Quantitative Biomedical Sciences, Dartmouth Medical School
Assistant Professor, Department of Genetics, Dartmouth Medical School, Norris Cotton Cancer Center
Current Affiliations
Mid-Career Investigator, OICR
Associate Professor, Department of Medical Biophysics, University of Toronto
Senior scientist, Princess Margaret Cancer Centre
Research Areas
Disease Areas
Awards
Till and McCulloch Discovery of the Year (Basic) Award, 2012, 2017
Rising Star in Prostate Cancer Research Award, 2014
Canadian Institutes of Health Research, New Investigator Salary Award, 2014
OICR Investigator Level I Award, 2012
Opportunities to Collaborate
To collaborate with Dr. Lupien, please contact him directly.
Visit OICR's Collaborative Research Resources directory for more opportunities to collaborate with OICR researchers.
Looking Ahead
Receive the latest news, event invites, funding opportunities and more from the Ontario Institute for Cancer Research.