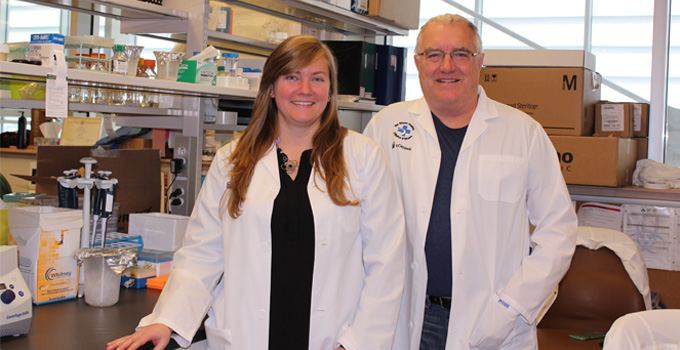 Immunotherapy, which boosts the body's immune system to kill cancer cells, has shown remarkable promise in treating many types of cancer. Now researchers have found a way to use immunotherapy against triple-negative breast cancer (TNBC), one of the most lethal forms of breast cancer. Previously, TNBC was resistant to immune checkpoint inhibitors, a common class of immunotherapies. Using a new strategy, the scientists achieved a cure rate of up to 90 per cent in mouse models.
Immune checkpoint inhibitors are drugs that block the proteins that cancer cells use to hide from the immune system and avoid destruction. Despite being useful in treating many forms of cancer, so far there has been little success in using checkpoint inhibitors to treat breast cancer. A new study by Ottawa researchers published in Science Translational Medicine may change that, with a combination approach that uses a virus and checkpoint inhibitors together to treat the disease.
"It is not known for certain why breast cancer patients do not respond well to checkpoint inhibitors, but it is believed that those who already exhibit some anti-tumour immune activity have the best results," says Dr. Marie-Claude Bourgeois-Daigneault, lead author of the study and Postdoctoral Fellow at The Ottawa Hospital and the University of Ottawa (uOttawa).
To get around the resistance of TNBC to checkpoint inhibitors, Bourgeois-Daigneault and her collaborators used an oncolytic virus, a type of virus that preferentially infects and kills cancer cells, to elicit a response from the immune system. "In essence, we are creating some anti-tumour immunity so that checkpoint inhibitors will work on the cancer cells. The combination of virus and the checkpoint inhibitors help the immune system recognize and attack the tumour."
The researchers tested their strategy across three different triple-negative breast cancer models in two different strains of mice to mimic variations seen in humans. First, the mice were treated with an oncolytic virus known as Maraba. This was done before surgery to allow a robust anti-tumour immune response to develop. Checkpoint inhibitors were then administered following surgery and the results were extremely promising.
"With the use of the checkpoint inhibitor alone we saw no curative effect. Maraba on its own resulted in cure rates of only about 20 per cent. However, the use of checkpoint inhibitors following the oncolytic virus and surgery resulted in cure rates of 60 to 90 per cent." says Bourgeois-Daigneault. "This is very encouraging given the hard-to-treat nature of triple-negative breast cancer." The study is the first to test oncolytic viruses and checkpoint inhibitors using a surgery and metastasis model, a design that is relevant to the clinical treatment of TNBC as the disease often returns and spreads following surgery.
 the use of checkpoint inhibitors following the oncolytic virus and surgery resulted in cure rates of 60 to 90 per cent.
Bourgeois-Daigneault reports that the team will continue to work to move this therapy into the clinic and that they may be able to take advantage of some of the previous research into Maraba to get it there even sooner. "Previous and ongoing clinical trials that used the Maraba virus can provide us with valuable safety information," says Bourgeois-Daigneault. "A big advantage of Maraba and other oncolytic viruses is that they have minimal side effects, especially when compared to those associated with chemotherapy, which can be life-altering." The most common side effects from oncolytic viruses are flu-like symptoms that last 24-48 hours.
The study is part of OICR's Immuno-oncology Translational Research Initiative (TRI), called ACTION. ACTION is one of five TRIs, which were launched by OICR in 2017 to discover new treatments for some of the most aggressive forms of cancer. Like all TRIs, ACTION is built around a strong link between the laboratory and the clinic. It is led by Dr. John Bell, Senior Scientist at The Ottawa Hospital and Professor at uOttawa and Dr. Marcus Butler of the Clinical Cancer Research Unit at the Princess Margaret Cancer Centre. The TRI brings together top researchers from across Ontario to enable discoveries that will help patients in the province and across the world.
Bell was the leader of OICR's preceding immunotherapy research program, which forms the basis of much of ACTION's research. The work of Bell and his collaborators in the development of Maraba and other immunotherapies led to the formation of spinout company Turnstone Biologics Inc. Turnstone is further investigating the Maraba virus and conducting clinical trials into its use in other immunotherapy treatment strategies.