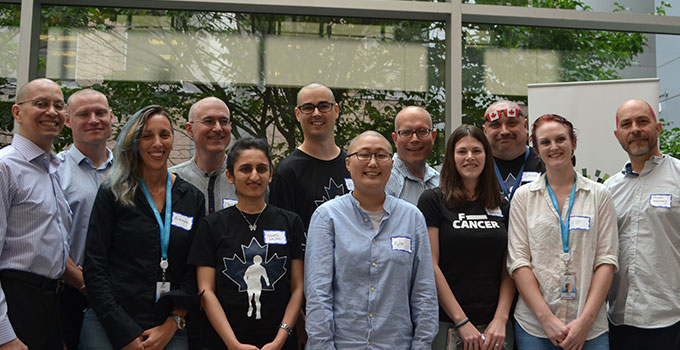 Since 2008 OICR staff members and others from the community have come together each year for the Terry Fox Great Canadian Hair Do, to raise money for important cancer research. This year the team raised more than $8,800 in support of the Terry Fox Foundation by shaving their heads or having their hair styled and brightly coloured. With these generous contributions the event has now raised more than $120,000 since its inception, and the team is still accepting donations.
In addition to raising funds, the event also provided an opportunity to reflect on the importance of cancer research. Adam Green, who survived non-Hodgkin's lymphoma after a diagnosis at the age of 15, shared his story with the audience noting, "I am here because of what Terry started." Many of the participants also shared stories about how cancer has touched their lives and discussed the research they are doing to improve the diagnosis and treatment of the disease.
The photos below show how much fun this event is every year.
On September 17, a team of OICR staff members also participated in the Terry Fox Run at the Beaches in Toronto and raised an additional $2,130 for the Terry Fox Foundation.