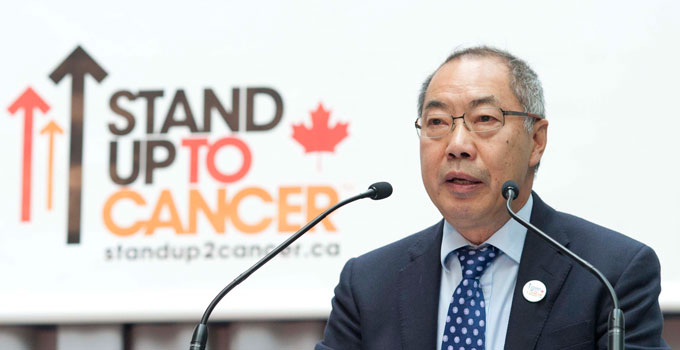 The first Stand Up to Cancer (SU2C) Canadian Dream Team of researchers was announced September 30, with $9 million provided over four years to support Canadian research on aggressive types of breast cancer.
The team, led by Dr. Tak Mak at the Princess Margaret Cancer Centre, will be developing new therapies aimed at changes in the genomes of cancer cells that make breast cancer tumours unstable and vulnerable to attack – the so-called "Achilles' heel" of aggressive breast tumours. The researchers will test three candidate drugs and hope to identify biomarkers that will help to better personalize treatment for patients.
Dr. Mak noted that attacking the genetic instability of tumour cells in aggressive cancer is an area of research that has not been fully explored. Once proven safe and effective in the lab, he and his team plan to offer the new drugs to patients in clinical trials for whom previous treatments have not worked to see how they will respond – hopefully by reducing the cancer's development or at least halting its growth. If successful the drugs could provide a new treatment option for patients who currently lack effective therapies.
OICR's funding for the Dream Team will be critical in setting up the early clinical trials for the new drugs.
"OICR and SU2C Canada share a common purpose in supporting translational research," said Dr. Tom Hudson, OICR's President and Scientific Director, "that is, ensuring the best scientific discoveries in cancer research are successfully developed into new approaches and therapeutics that will benefit patients. We are happy to join forces with Stand Up to Cancer Canada and the Canadian Breast Cancer Foundation to support this team."
The Dream Team co-leader is Dr. Samuel Aparicio, the Nan and Lorraine Robertson chair in breast cancer research at the University of British Columbia in Vancouver and Head of the Department of Breast and Molecular Oncology at the BC Cancer Agency. In addition to the leaders, the Principal Investigators on the Dream Team include Dr. Morag Park, Director, Rosalind and Morris Goodman Cancer Research Centre, McGill University, Dr. Kathleen Pritchard, Senior Scientist at Sunnybrook Research Institute and Dr. Karen Gelmon, Professor of Medicine at the University of British Columbia in Vancouver.