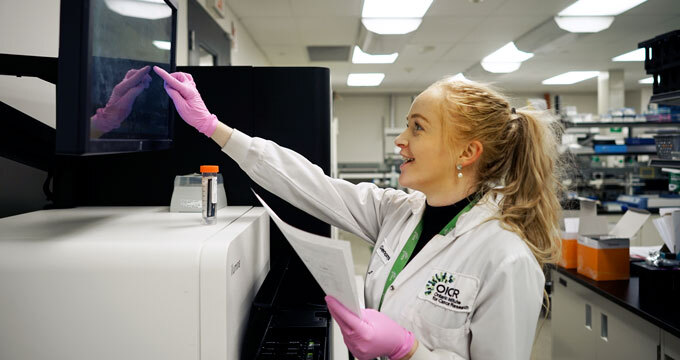 OICR Genomics believes high-quality cancer research starts with high-quality data. Since inception, their labs have been committed to quality, and now accreditation is within reach
Standards are all around us – making our lives safer and easier in many ways. In both research and medicine, laboratory standards help evaluate a lab's quality, reliability and efficiency. Research lab standards help scientists generate reliable data leading to reproducible discoveries, but in medicine, lab standards help clinicians make more accurate diagnoses and treatment decisions. These different applications call for different standards and sometimes different schools of thought.
Since inception, OICR Genomics has been building a bridge between research and medicine, developing new standards for innovative genomics technologies while refining lab procedures so they can serve as the trusted genomics services provider for Ontario's cancer community. Today, OICR Genomics is proud to provide high-quality services for cancer researchers, clinicians, and the patients they serve.
The journey to accreditation
Achieving and maintaining accreditation is an exceptionally rigorous process that requires steadfast diligence and meticulous lab management over a sustained period of time. Since 2018, OICR Genomics has been developing and improving processes and procedures to achieve accreditation by the Institute for Quality Management in Healthcare (IQMH) and the College of American Pathologists (CAP), two well-recognized leaders in lab accreditation.
There are three key elements that make accreditation possible:
Dedicated people. Every member of OICR Genomics is important to the accreditation process. Accreditation requirements include effective documentation and training protocols, a strong track record of good lab practices, continuous sharing and monitoring of technical results, appropriate validation and uncertainty correction methods, an extensive array of standard operating procedures, and more. Successful accreditation requires the collective effort of all lab staff – from students to senior researchers.

"I'm proud of our team's commitment to the community," says Dr. Carolyn Ptak, Program Manager and Quality Assurance Lead of OICR Genomics. "We have a great group that is flexible, innovative and committed to quality.
Balanced priorities. Given the complex and rapidly evolving field of cancer genomics, many laboratories face challenges associated with compliance. New tools and innovations call for new standards. OICR Genomics continuously strives to balance innovation, performance, efficiency and safety under the leadership of Dr. Trevor Pugh.

"As research continues to evolve, OICR Genomics will continue to as well," says Dr. Trevor Pugh, Senior Investigator and Director of the Joint Genomics Program at OICR and the Princess Margaret Cancer Centre. "We're excited by the current advancements in genomics and we look forward to continuous improvement in the years to come."
Stable support. Over the last fifteen years, OICR has mobilized the community to transform cancer care through collaborative networks, transformative initiatives and more. Many collaborators have recognized the value of working with OICR Genomics and it is with their consistent support that the foundations leading to accreditation were laid.

"We are thankful for all the talented scientists who have worked with us throughout the years on innumerable genomic sequencing projects," says Dr. Paul Krzyzanowski, Director of the Genome Research Platform, "Our newly accredited services will be available to clinical, academic, and industrial research clients and we're excited to be able to support a whole new scale and scope of projects.
For the community
Genomics has become a central discipline of cancer research. It has unlocked new opportunities to predict cancer earlier and match patients with the most effective medicines for their disease. In parallel, advances in research methods and sequencing technologies have expanded the affordability and accessibility of genetic sequencing. Reading human DNA and RNA is no longer a multi-year, multi-million-dollar initiative, it can be done in hours or days at a fraction of that cost. These opportunities, however, can only be realized through the translation of research and innovation. For OICR Genomics, translation is at the centre of their mission – and rigorous lab standards help accelerate translation.
Within the cancer community, OICR Genomics' lab standards can mean different things to different people:
For the researcher, high lab standards and accredited lab services help you generate high-quality, reliable data in an efficient way. This means you can have more trust in your results and more reproducible discoveries.
For the patient, high lab standards can help ensure that the community is effectively gaining knowledge from your donated biological samples. Accreditation of your local genomics research lab can also help your care teams apply the most recent discoveries to your treatment planning.
For the province, these internationally recognized standards will help research teams use resources efficiently and effectively, maximizing the impact of finite resources, while attracting high-profile genomic studies to Ontario.
"Accreditation allows us to explore transformative new approaches to achieve health benefits," says Dr. Laszlo Radvanyi, President and Scientific Director of OICR. "Ultimately, accredited lab protocols help our lab infrastructure serve as bridge between research and improved health."
For more information on OICR Genomics' services please visit the genomics services page or contact OICR Genomics.