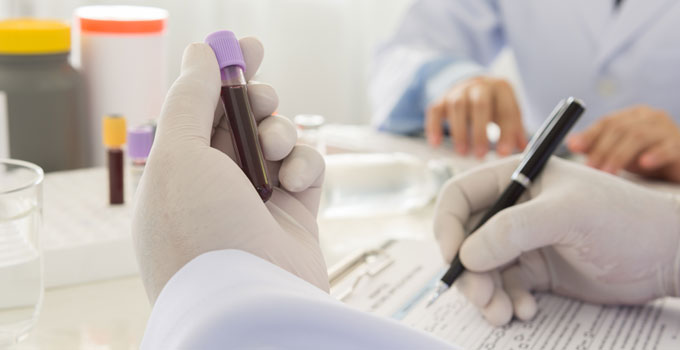 The advent of genomic sequencing and targeted therapies has opened the door to new ways of diagnosing and treating cancer. The Ontario-wide Cancer Targeted Nucleic Acid Evaluation (OCTANE) program is a new, province-wide initiative supported by OICR that will allow more patients to benefit from these innovations while also helping to advance cancer research in Ontario.
In 2011, OICR partnered with the Princess Margaret Cancer Centre (PM) and four additional Ontario sites to launch the Genomics Pathway Study, Canada's first multi-centre trial evaluating the feasibly of using next generation sequencing technology in a clinical setting. The trial demonstrated that genomic analysis in a clinical setting was possible and established the tools required to make this type of diagnosis a reality in Ontario.
Six years later, a lot has changed in the world of genomic sequencing – most notably that the cost has dropped significantly. It is now feasible for many more patients to be diagnosed using genomic testing and directed to the treatment most beneficial to their particular type of cancer. But the adoption of this type of diagnosis is not yet widespread.
OICR and PM recently jointly established and funded the Ontario-wide Cancer Targeted Nucleic Acid Evaluation (OCTANE) program to build upon the early work of the Genomics Pathway Study and expand the use of next-generation sequencing (NGS) technology in Ontario cancer centres. Patients who choose to participate in OCTANE will receive initial NGS-based genomic profiling that will help identify approved therapies (if appropriate) and targeted and immune therapy clinical trials with investigational agents that may be beneficial. OCTANE will also identify patients who may benefit from more advanced genomic profiling. Bringing more NGS technology will directly benefit Ontario cancer patients by directing them to the therapies that offer the best chance of success.
OCTANE opened to patients at PM in August 2016 and will soon launch at four more sites: the Juravinski Cancer Centre (Hamilton), London Health Sciences Centre, The Ottawa Hospital and Kingston General Hospital. Drs. Philippe Bedard and Lillian Siu, who are based at PM, are principal investigators of the study, which will also involve a cross-disciplinary team of researchers and clinicians at OICR and at the hospital sites.
In addition to its clinical impact, OCTANE will also help further advance cancer research in Ontario. Patients who enrol in the program are asked to provide an archival tissue sample, a blood sample and consent to their de-identified clinical and genomic information being shared with other cancer researchers. These samples will be held in a centralized biorepository maintained by the Ontario Tumour Bank (OTB) at OICR in association with the Institute's Diagnostic Development Program.
OTB's provincial reach and its expertise in processing and storing samples is a valuable resource for OCTANE. "As part of the OCTANE team we are ensuring that there are high-quality samples, such as DNA and RNA, for analysis and that they are stored properly for future use," says Dr. John Bartlett, Director of OICR's Diagnostic Development Program.
The PM-OICR Cancer Centre Translation Genomics Laboratory (TGL), which is based at OICR, will perform a more powerful analysis on patient samples. Like OCTANE, TGL was established in 2016 to perform cutting-edge genomics research to inform the development of new molecular tests and cancer therapies. Aggregate data from TGL's analysis of patient samples will be fed back to researchers at the hospital sites to help them identify patterns and choose promising areas for research. Data from the TGL is presented at the aggregate level to ensure that it is used only for research purposes and not to direct treatment, as research results cannot be used in that manner.
"Through this study we are not only providing access to novel treatments to benefit patients but are establishing a research infrastructure that will advance the use of personalized medicine in Ontario," says Siu. "Developing tests to identify mutations driving a patient's cancer will help clinicians deliver the best suited treatments."
Sharing of clinical and genomic data is key to OCTANE's success. To this end the study has deployed a genomic data platform called cBioPortal. This open-source technology was originally developed by Memorial Sloan Kettering Cancer Center, but a local and secure version has been established at OICR to house data for OCTANE. The secure platform will allow researchers and treating oncologists to visualize, analyze and download large-scale genomic datasets. Using cBioPortal and Medidata Rave will mean that the data and samples obtained through OCTANE are used to their full potential.
OCTANE is also developing and deploying bioinformatics tools for the collection and analysis of study data. The study is using Medidata Rave, a web-based electronic data-capture system hosted at PM, to gather detailed information about OCTANE participants. This ensures data is stored in a uniform manner as it is collected through a customized electronic case report form developed for OCTANE. Dr. Philip Awadalla, Senior OICR Investigator, Informatics, is providing informatics and bio-computing support to OCTANE.
"Gathering and storing patients' clinical and genomic data in a centralized manner and sharing it with Ontario's cancer researchers will allow us to accelerate the development of targeted therapies," says Bedard. "Through this study we will help patients access the most effective treatments and help develop the next generation of cancer diagnostics and therapies."