Research led by Dr. Timothy Hanna suggests that minimizing delays to treatment could improve cancer survival rates
Many countries have needed to defer cancer surgeries, radiotherapy and other treatments through the COVID-19 pandemic, which has brought the impact of treatment delays into sharp focus. In a study published today in The BMJ, Dr. Timothy Hanna and collaborators report that people whose cancer treatment is delayed by even four weeks have in many cases a six to 13 per cent higher risk of dying – a risk that keeps rising the longer their treatment does not begin.
"We know that delay matters and now we understand how much it matters," says Hanna, Radiation Oncologist at the Cancer Centre of Southeastern Ontario, Faculty of Queen's Cancer Research Institute, OICR Clinician Scientists and lead of the study. "With these data, we can now quantify the impact of treatment delays – including those that we're experiencing now throughout the COVID-19 pandemic."
The research group reviewed and analyzed relevant studies from around the world that were published over the last two decades. They found that there was a significant impact on a person's risk of death if their treatment was delayed, whether the treatment was surgical, chemotherapy or radiotherapy. They observed this impact across all seven types of cancer analyzed – breast, bladder, colon, rectum, lung, cervix and head and neck cancers.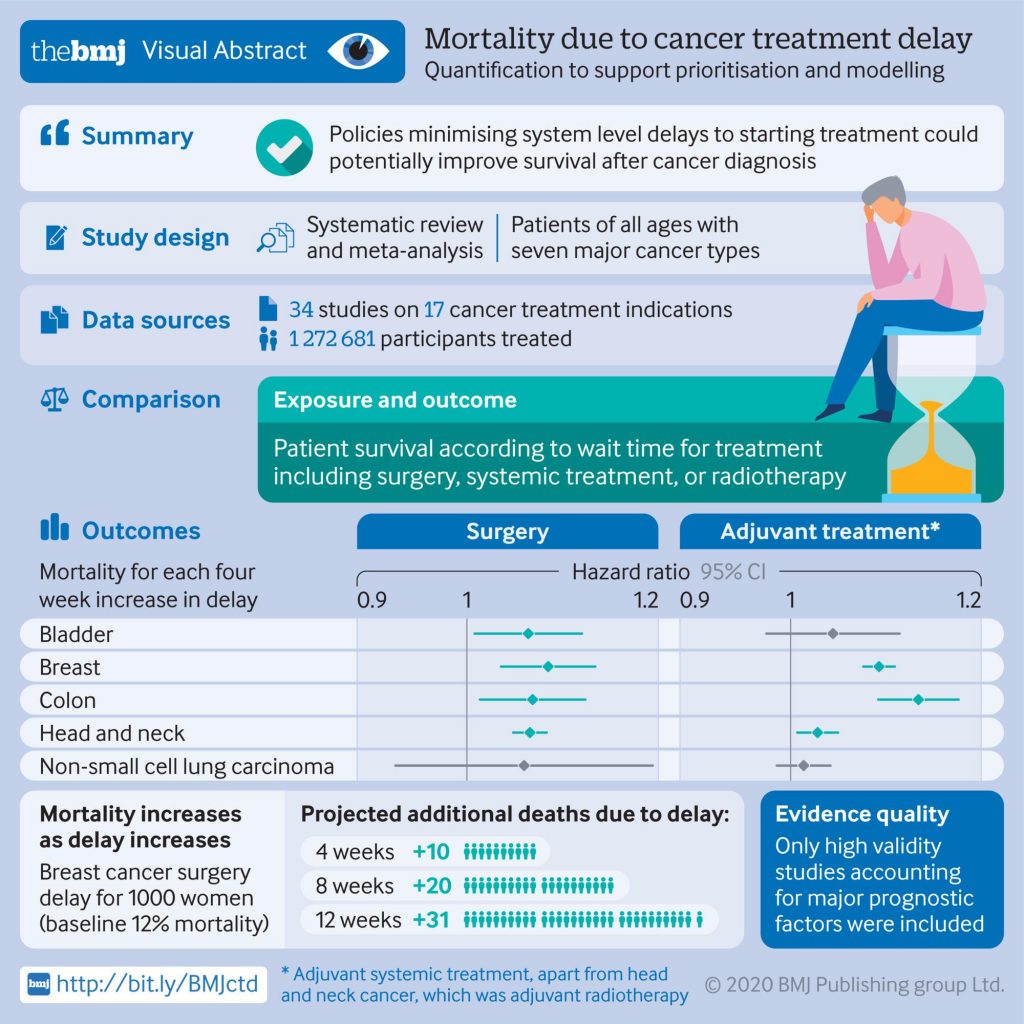 For example, with cancer surgery, they saw a six to eight per cent increase in the risk of death for every four-week treatment delay, meaning that a three-month delay could increase the risk of death by about 25 per cent. The impact was even greater for specific treatments – such as bowel cancer chemotherapy – where a three-month delay could cause a 44 per cent increase in risk of death.
"As we move towards the second COVID-19 wave in many countries, the results emphasize the need to prioritize cancer services including surgery, drug treatments and radiotherapy as even a four-week delay can significantly increase the risk of cancer death," says Dr. Ajay Aggarwal, co-lead of the study from King's College London and the London School of Hygiene and Tropical Medicine.
Hanna hopes this study will help inform cancer treatment backlog management and prioritization. His prior work on prioritizing treatment during COVID-19, published in Nature Reviews Clinical Oncology, has been incorporated into health system planning and management in Ontario and around the world.
"The impact of cancer treatment delays will persist long after the threat of this pandemic subsides," says Hanna. "As a clinician, a patient, an administrator or a decision-maker in our cancer care system, these results should encourage us all to put resources and efforts in place to minimize system level delays in cancer treatment."