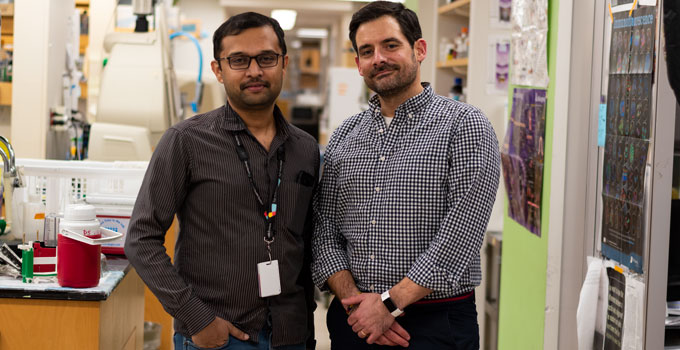 Toronto-based research team uncovers dozens of rare mutations found in head and neck cancers converge on a single molecular pathway, amplifying the need to shut down this critical cancer-causing mechanism
With the advancement of DNA sequencing technology, researchers have discovered hundreds of genes that, when mutated, can drive cancer progression. Despite these discoveries, we don't yet fully understand how the majority of cancer-causing genes work, leaving a large gap between the discovery of a gene mutation and the discovery of a new therapy. Dr. Daniel Schramek is filling that gap.
In a recent study, published in Science, Schramek and collaborators, including Dr. Trevor Pugh, Director of Genomics at OICR, analyzed the function of nearly 500 gene mutations found in head and neck cancers. Remarkably, they discovered that the many of these mutations affected one key molecular process within cancer cells. They shut down NOTCH signaling.
"While we see many different mutations in different genes across different patients, we found that many mutations, surprisingly, tend to do the same thing," says Schramek, who is an investigator at Sinai Health's Lunenfeld-Tanenbaum Research Institute (LTRI). "This means the complexities of head and neck cancers may be simpler than we thought"
Schramek reasons that focusing on correcting the NOTCH pathway, rather than correcting the effects of each individual gene mutation, could simplify and focus the search for new and improved cancer therapies. He estimates that approximately 70 per cent of people with head and neck cancers have tumours that are affected by this pathway. Thus, a large majority of these patients could benefit from NOTCH-correcting cancer drugs.
"Every patient's tumour is made up of different gene mutations and combinations of these mutations," says Dr. Sampath Loganathan, first author of the study and Postdoctoral Fellow in the Schramek Lab. "Some of the more common, well-understood mutations are druggable – meaning they can be blocked with drugs – but there are hundreds of rarer, but important, mutations that we don't yet understand."
It is challenging to understand how a single mutation causes damage within a cell and ultimately leads to cancer. It is tremendously more challenging to understand the function of hundreds of mutations.
---
Our findings present a new way of thinking about precision oncology

Dr. Daniel Schramek
---
Schramek's lab, however, developed an experimental system that allowed them to accelerate traditional functional testing for a fraction of the cost. Their system could test hundreds of gene mutations in a single mouse model. What would take several millions and decades in research and development, could now be done in one year for a fraction of the cost. Equipped with their powerful tools, this research group was the first to systematically look at rare mutations in head and neck cancers.
Schramek and collaborators are now working to identify key elements within the NOTCH pathway that can be blocked with chemicals. Their ultimate goal is to develop these chemicals into new drugs to help those with head, neck and other types of cancers. They will also continue to explore this phenomenon in other cancers such as breast and pancreatic cancers.
"Our findings present a new way of thinking about precision oncology," Schramek says. "Instead of matching patients with specific mutations to specific treatments, researchers could focus on shutting down or restoring the pathways involved with those genes – hence, a pathway-centric model of precision oncology. We're excited by this progress, and we look forward to bringing our ideas to future patients."
This research was done in collaboration with OICR and was supported by the Canadian Institutes of Health Research, the Terry Fox Research Institute and the Human Frontier of Science Program. Schramek is a Kierans/Janigan Cancer Research Scientist and holds a Canada Research Chair in functional cancer genomics in the Department of Molecular Genetics at the University of Toronto.
Read more about this work in the Lunenfeld-Tanenbaum Research Institute's news story.