The winner will soon meet with U.S. regulators, marking a major step towards commercializing her innovative polymer product, ReFilx™, and bringing it to breast cancer patients.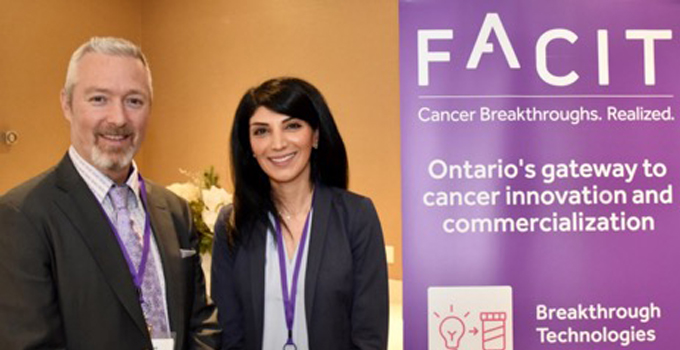 It took only 10 minutes for a panel of investors and industry experts to recognize that Dr. Soror Sharifpoor and her oncology product – ReFilx™ – were worth supporting. Last spring, she pitched ReFilx™ in the FACIT Falcons' Fortunes competition and won the top prize – the $50,000 Ernsting Entrepreneurship Award. Almost 12 months later, Sharifpoor and her team at Polumiros Inc. will be meeting with the U.S. Food and Drug Administration (FDA) to officially begin the regulatory submission process – a necessary first step in bringing their product to patients.
ReFilx™ is a polymer designed to fill the breast tissue cavities left in breast cancer patients following a lumpectomy. The polymer dissolves over time, allowing the patient's cells and tissue to regrow in its space, thus preventing breast tissue defects from forming.
"ReFilx™ could improve the emotional and mental well-being of breast cancer patients," says Sharifpoor. "In addition to the psychosocial benefits, it could also encourage surgeons to take more aggressive margins around the tumour, thereby reducing the chances of cancer recurrence."

Bringing ReFilx™ to the clinic requires rigorous clinical testing and regulatory review, which begins with a pre-submission meeting with the FDA. FACIT's support allowed Sharifpoor to continue with pre-clinical testing, hire a regulatory consultant and further develop ReFilx™ into an injectable form.

In a few months, Sharifpoor and her team will have the pre-submission meeting to collect feedback on their product, which will then be used to guide their future submission to the FDA and their plans for further clinical research. Polumiros Inc. intends to pursue this research in Canada.

"We're excited to initiate our regulatory submission process," says Sharifpoor. "We're fortunate to have had FACIT's support, allowing us to develop ReFilx™ faster and smarter than we would have on our own."

FACIT, OICR's strategic partner in commercialization, is hosting its 6th annual pitch competition this year on April 4, 2019. The Falcons' Fortunes event will feature six aspiring entrepreneurs from across the province who are developing oncology-related innovations. FACIT runs the annual competition as part of its broader mandate to support translation of cancer research to benefit Ontario's economy and patients worldwide.
Learn more about Falcons' Fortunes – FACIT's annual pitch competition or read about this year's event details.