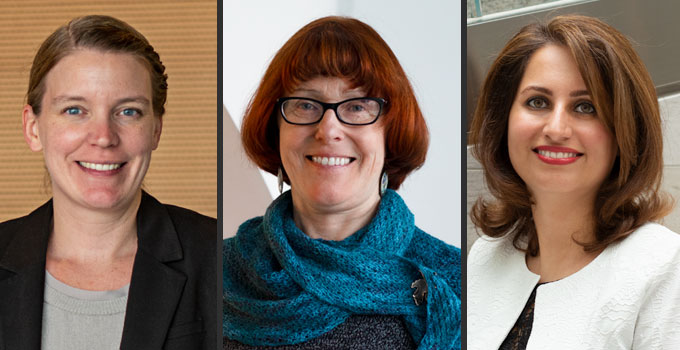 Toronto – (November 26, 2019) Today, the Ontario Institute for Cancer Research (OICR) announced three new Investigator Award (IA) recipients, reinforcing OICR's commitment to recruit and retain world-class cancer researchers across Ontario.
The awards are for up to $350,000 per year for up to six years, providing stable research funding and salary support for recipients to establish their laboratories and build their research platforms within Ontario. They bring with them expertise in big data, machine learning, multi-omics analysis and immuno-oncology. The new recipients are:
Dr. Tricia Cottrell
Clinician Scientist I Award
Cottrell is a pathologist and immunologist from Johns Hopkins University who recently moved to Kingston to become an Assistant Professor at Queen's University and Senior Investigator in the Canadian Cancer Trials Group. Cottrell focuses on mapping the interactions between the immune system and cancer cells as patients undergo treatment in order to develop new biomarkers that can better predict the course of a patient's disease.
Dr. Anna Panchenko
Senior Investigator Award
Panchenko was recently recruited to Kingston from the National Center for Biotechnology Information where she developed several methods and algorithms to study the molecular mechanisms behind cancer. Panchenko's methods have been widely used by thousands of scientists from around the world to better understand the causes of cancer progression. She is now a Professor at Queen's University and holds a Tier I Canada Research Chair.
Dr. Parisa Shooshtari
Investigator I Award
Shooshtari is an Assistant Professor at Western University in London, where she is establishing her first laboratory as an independent researcher. Joining the OICR community with experience from Yale University, the Broad Institute of MIT and Harvard, and The Hospital for Sick Children (SickKids). Shooshtari brings unique expertise in developing computational, statistical and machine learning methods to understand the biology underlying complex diseases like cancer.
With their new appointments as OICR Investigators, Cottrell, Panchenko and Shooshtari join 25 other IA recipients as part of OICR's collaborative cancer research community of more than 1,900 highly-qualified personnel across 23 Ontario institutes. Since its inception in 2006 the IA program has provided funding to recruit and keep world-class cancer researchers and clinician scientists in universities, hospitals and research centres across Ontario.
"Sustainable funding for talented scientists is critical to building a strong research ecosystem that will deliver the next wave of innovations and discoveries. The Investigator Award program is key to attracting and keeping top cancer researchers in Ontario," says Dr. Christine Williams, Deputy Director and Interim Head, Clinical Translation at OICR. "We are particularly pleased that all three awards have been given to accomplished female scientists and are proud to offer our support as they establish their research programs in Ontario."
"We are thrilled to welcome these highly-regarded researchers and look forward to their contributions to the health of Ontarians and the province's cancer research sector," says Hon. Ross Romano, Ontario's Minister of Colleges and Universities. "Investing in top talent will allow Ontario to stay at the forefront of bio-medical research and realize the benefits of advancements in cancer prevention, diagnosis and treatment more quickly."
As professors at their respective academic institutions, the three new IA recipients will take part in providing high-quality training to students in areas such as computer science and machine learning. Technological advancements and an evolving global economy are changing work in Ontario. These new, unique, cross-appointed positions will strengthen Ontario's cancer research capacity while helping prepare students for careers in a rapidly-evolving knowledge-intensive industries.
For more information about the Investigator Award program, visit www.oicr.on.ca/investigator-awards.