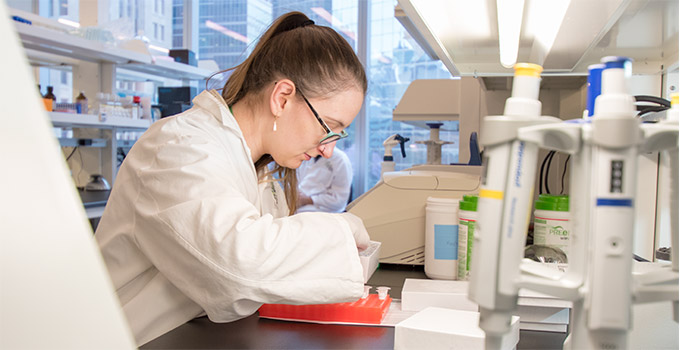 Researchers investigate the clinical, molecular and microenvironment factors that contribute to extreme therapy response and resistance in ovarian cancer patients
Some patients with high-grade serous ovarian cancer (HGSOC) respond exceptionally well to therapy, while others experience rapid disease relapse. The mechanisms behind these disparate outcomes are poorly understood, but a group of researchers based at the Princess Margaret Cancer Centre (PM) supported by OICR's Ovarian Cancer Translational Research Initiative (TRI) are working to change that.
The team has recently investigated the differences between HGSOC tumour samples from exceptionally long-term survivors – those who have survived for over 10 years after treatment – and tumour samples from exceptionally short-term survivors – those whose succumb to the disease in less than two years after therapy.
Their study, which was published recently in Genome Medicine, found a clinical, molecular and microenvironment factors that together may explain the extreme cases of survival. Here, the lead researchers describe what these findings mean and how they're going to translate this new knowledge back to the clinic.
Of all the molecular differences that you observed between long-term and short-term survivors, what intrigued you the most?
Cindy Yang, PhD Candidate at the Princess Margaret Cancer Centre
I am most interested in a specific gene fusion between the ESR1 gene and its neighbour CCDC170 that we only found in patients with extremely short survival. This fusion may drive a mechanism that makes some ovarian cancers exceptionally resistant to treatment. This means we can potentially target this mechanism to improve therapies and extend the lives of patients. We were the first group to report this gene fusion in HGSOC patients, and part of that is because we were looking where others weren't – at the exceptional cases of long-term and short-term survival.
Your study highlights the heterogeneity of HGSOC. How can this information be useful in the clinic?
Dr. Stephanie Lheureux, Clinical Investigator and Medical Oncologist at the Princess Margaret Cancer Centre
We began our study knowing that HGSOC tumours were complex because we see this in our patients every day. HGSOC tumours have high cellular heterogeneity and genomic instability, which contributes to tumour evolution with development of treatment resistance and has led to a five-year survival rate of less than 50 per cent. Our study helps delineate some of this complexity around HGSOC, and helps us direct our research efforts moving forward. Through this body of work, we suggest that treatment decisions and patient care should be informed by a multidisciplinary approach that integrates the molecular and microenvironmental factors we've identified.
How was your approach unique and what were the advantages of this approach?
Dr. Trevor Pugh, Scientist at the Princess Margaret Cancer Centre, Director of the PM-OICR Translational Genomics Laboratory
Fundamental discoveries in genetics have long been made by looking at the "tails" of data distributions: unusual families, genetic outliers, and, in our case, exceptionally long-term and exceptionally short-term survivors. By increasing the contrast of our analysis, we could better identify markers of HGSOC aggressiveness. We also used long-term clinical data that spanned more than 20 years, an incredible resource enabled by the Princess Margaret Cancer Registry, which is something that other studies have not had access to. Lastly, our study brought together a great research team across multiple disciplines which allowed us to look at this question of exceptional response more comprehensively.
How are you working to translate these findings back to patients?
Dr. Amit Oza, Head of the Division of Medical Oncology and Hematology and Medical Director of the Cancer Clinical Research Unit at the Princess Margaret Cancer Centre, Co-leader of OICR's Ovarian Cancer TRI
We've uncovered new mechanisms involved with HGSOC treatment resistance and we plan to further investigate these mechanisms to validate markers of therapeutic resistance and identify vulnerabilities that we can potentially target. For example, we're looking at dynamic genomic changes of HGSOC in response to treatment through BioDIVA, a key trial of the Ovarian Cancer TRI. Our research group and collaborators are well-positioned to make progress in this field, and with the support of OICR, we hope to better understand this genomic instability to more accurately predict treatment response and tailor treatment decisions more effectively for each patient with ovarian cancer.