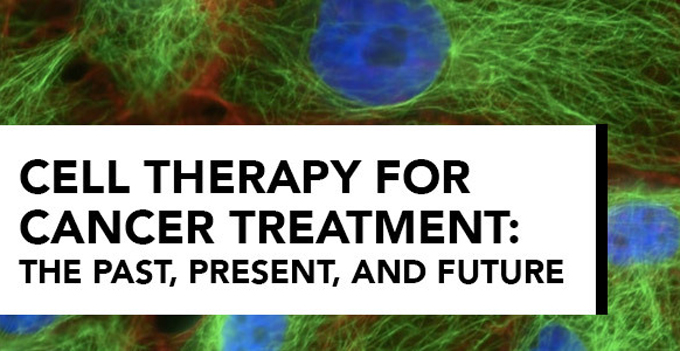 OICR and Johnson & Johnson Innovation – JLABS @ Toronto launch the OICR-JLABS Cancer Symposium Series, featuring leaders, innovators and trail blazers in cell therapy
On January 28, OICR and JLABS @ Toronto hosted the inaugural symposium of their Cancer Symposium Series, focused on horizons and controversies in cell therapy for cancer treatment. Invited speakers from around the world took a deep dive into the promise of gene therapy and the key challenges that they're working to overcome.
The event was hosted by the Regional Head of JLABS Canada, Allan Miranda, and OICR's President and Scientific Director, Dr. Laszlo Radvanyi. Guest speakers included Dr. James Yang from the National Cancer Institute, Dr. Emily Titus, Vice President at Notch Therapeutics, and Dr. Michael Maguire, CEO of Avectas.
Event recap
Dr. Yang reviewed the notable advancements made in Adoptive T cell Therapy (ACT) for certain cancers, like melanomas. Despite these advancements, he emphasized the importance of further research since most of the common cancers that kill people have yet to be addressed using immunotherapy. His presentation outlined some key scientific and biological challenges in developing effective ACT for epithelial cancers, highlighting that epithelial cancers, which represent the vast majority of cancer cases, have a lower mutational burden relative to melanomas, often have a limited number of tumour-infiltrating lymphocytes, and are difficult to mimic in experimental models.
Dr. Titus presented Notch Therapeutics' platform for generating T cells and other immune cells from stem cell lines. The team at Notch, which has expanded from Toronto to Vancouver and Seattle, is leveraging their platform to build a pipeline of sophisticated T cell therapeutic products.
Dr. Maguire shared Avectas' automated GMP engineering platform, SOLUPORE, which is built to enable the ex-vivo manufacture of gene modified cell therapy products. He emphasized the importance for improved complex engineering solutions to address solid tumours.
The event highlighted the potential of cancer cell therapy and the technologies that will advance the field of cell therapy in the future. The event recording can be accessed here.
If you would like OICR event invitations and news delivered directly to your inbox, please subscribe here.