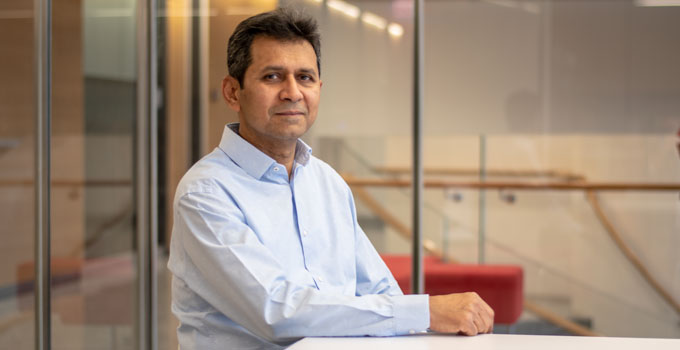 Large-scale genomic study discovers 40 new genetic variants associated with colorectal cancer risk
The most comprehensive genome-wide association study of colorectal cancer risk to date has discovered 40 new genetic variants and validated 55 previously identified variants that signal an increased risk of colon cancer. The study, recently published in Nature Genetics, is a product of the world's largest molecular genetic consortium for colorectal cancer – the Genetics and Epidemiology of Colorectal Cancer Consortium (GECCO) – which was established nearly 10 years ago.
"Despite recent improvements in screening, colorectal cancer is still the second most deadly cancer in Canada," says Dr. Syed Hassan Zaidi, Scientist at OICR and co-author of the publication. "Better understanding the genetic drivers of the disease helps us find new ways to prevent, detect and even treat these cancers."
The study brought together researchers from 130 institutions, including OICR, to investigate the genomes of more than 125,000 individuals. Using a dataset of this size, the researchers had the statistical power to identify and validate several parts of the genome that were not previously linked to colorectal cancer.
Now, Zaidi and his GECCO collaborators are taking a closer look into these areas of the genome. Zaidi has led the sequencing of approximately 3,500 colorectal cancer cases at OICR and has spearheaded the design of a study that will sequence an additional 4,000 colorectal cancer cases.
"It is important for us to strategically analyze this wealth of data so that no opportunities are missed," says Zaidi. "We've built a remarkably strong base of knowledge from which we hope to develop methods to find and stop the drivers of colorectal cancer."