Ontario Health Study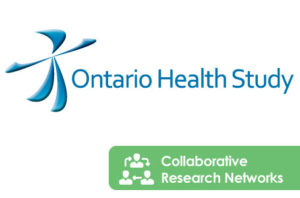 The Ontario Health Study (OHS) is a landmark study with over 230,000 participants that will help researchers better understand the environmental, lifestyle, and genetic factors that cause cancer and other chronic diseases. Past studies similar to the Ontario Health Study were critical to establishing the link between cigarettes and lung cancer. The discoveries that will come from the Ontario Health Study will bring us closer to treating and preventing major diseases in future generations.
The Study collects its data from participants over the age of 18 through a health questionnaire conducted entirely online. Periodic follow-up questionnaires and linkage to various health-related databases will track changes to participants' health over time.
Participants aged 30-74 years are also encouraged to provide a blood sample, either through a partnership with LifeLabs Medical Laboratories, or at one of a rotating series of Study-run collection sites called Local Study Centres. Some of the samples will be used for immediate analysis but most of the samples will be frozen for future research.
The OHS is one of five participating cohorts of the Canadian Partnership for Tomorrow Project (CPTP), alongside the B.C. Generations Project, the Alberta Tomorrow Project, CARTaGENE in Quebec and the Atlantic PATH. To date, the CPTP has collected data from over 300,000 Canadians. The Project's data and biosamples are available to researchers through the CPTP Portal. More information about accessing the CPTP Portal is available here: https://portal.partnershipfortomorrow.ca/
News
Find out more about what's happening at The Ontario Health Study on OICR News.
Website
For more information on the OHS, visit www.OntarioHealthStudy.ca.