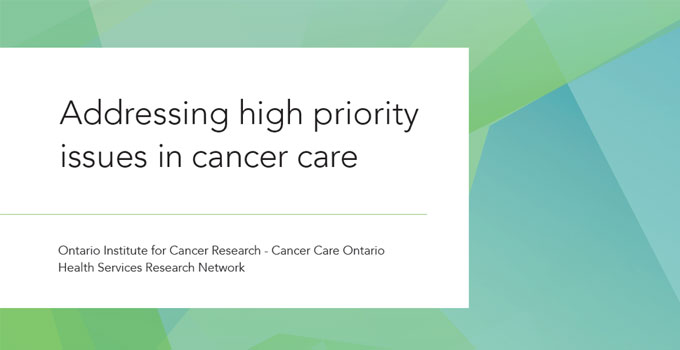 OICR and Cancer Care Ontario's Health Services Research Network releases the 2019 Synthesis Report, summarizing 14 studies that address high priority issues in cancer care
An excerpt from the foreword by Drs. Christine Williams and Eva Grunfeld:
Optimal cancer care across Ontario cannot be solely provided by a clinician or implemented by a researcher, enacted by a policy maker or attained by a patient. To improve the delivery of cancer services, we need to work together with stakeholders from across our rich cancer care ecosystem and involve them in prioritizing concerns, designing interventions and implementing solutions. For these reasons, OICR and Cancer Care Ontario (CCO) teamed up to co-create the OICR-CCO Health Services Research Network (HSRN).
Now, a decade later, we present our second Synthesis Report with an additional 14 studies that have emerged from this network. These studies have addressed high priority issues in cancer care including the gap in follow up after a positive colorectal cancer screening test, and the challenges that cancer patients face with co-existing chronic conditions like diabetes. The studies have led to the development of new methods to determine the burden of cancer in Ontario, and new resources to facilitate health services research across the province. This report provides summaries of these studies and others and their impact to date.