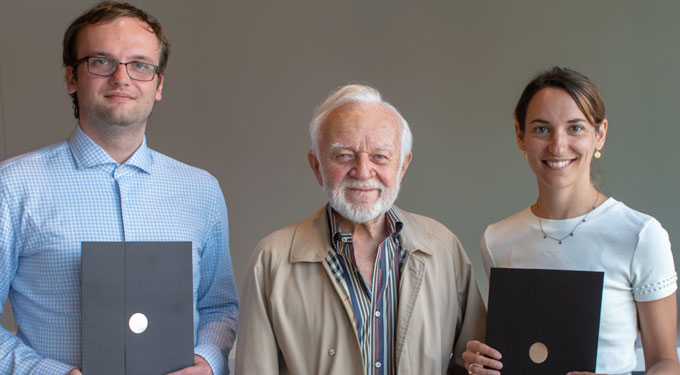 The Lebovic Fellowship program connects scientists in Israel and Ontario, leading to the validation of a new drug candidate for leukemia and the optimization of a new potential cancer vaccine
Three years ago, the Institute for Medical Research Israel-Canada (IMRIC) received a donation from Joseph and Wolf Lebovic – two brothers who are Holocaust survivors, Canadian immigrants, avid philanthropists and recently-appointed Members of the Order of Canada. Their vision was to strengthen collaboration between the outstanding researchers in Israel and those in Ontario to accelerate cancer research.
They created the Joseph and Wolf Lebovic Fellowship Program, which paired together laboratories specializing in complementary subjects. The Program's first round of projects officially came to a successful close today and here we recognize the progress made thanks to the generous donation of the Lebovic brothers.
Developing a drug for leukemia
Israel lead researcher: Dr. Yinon Ben-Neriah, IMRIC
Israel fellows: Waleed Minzel and Eric Hung, PhD Candidates, Hebrew University of Jerusalem
Ontario lead researcher: Dr. John Dick, Princess Margaret Cancer Centre (PMCC)
Ontario fellow: Dr. Laura Garcia-Prat, Postdoctoral Fellow, PMCC
Ben-Neriah's lab in Israel had developed a new compound and showed it may be a valuable anti-leukemia drug, but they couldn't explain why the drug was only effective in animal models that had strong immune systems. Understanding the relationship between the drug and the immune system would allow them to validate which leukemia subtypes would respond to their therapeutic approach.
John Dick's lab had developed the gold standard for evaluating the efficacy of leukemia drugs in animal models using sophisticated patient-derived xenograft mouse models. Through this fellowship, the Ben-Neriah Lab teamed up with the Dick lab to learn from their expertise and gain insights into their experimental models.
Equipped with these powerful models, the Ben-Neriah Lab performed an extensive in vivo validation study of their compound, which supported its efficacy and demonstrated a cure rate of 50 per cent in their xenograft models. They've recently published their findings in Cell and were featured on ISRAEL21c, ScienceDaily, and MedicalXpress.
Through the Lebovic Fellowship, the trainees from Israel and Ontario were able to learn new experimental methods from one another, discover new potential targets for human acute leukemias, and develop new relationships across the global leukemia research community..
---
Improving a potential cancer-fighting virus
Israel lead researcher: Dr. Ofer Mandelboim, IMRIC
Israel fellow: Yoav Charpak Amikam, MD/PhD Candidate, Hebrew University of Jerusalem
Ontario lead researcher: Dr. John Bell, The Ottawa Hospital Research Institute
Ontario fellow: Adrian Pelin, PhD Candidate, University of Ottawa
John Bell's group is actively involved in researching the use of Vaccinia as an oncolytic virus. Their goal is to develop a tumour-specific virus that can effectively kill tumour cells and engage the patient's immune system to work against cancer cells. Despite its widespread use as a vaccine for diseases like smallpox, it is not well understood how Vaccinia can trigger an immune response.
Ofer Mandelboim's lab has expertise in evaluating how immune cells are activated by viruses. More specifically, they had developed a powerful experimental model that could measure NK cell activation. Adrian Pelin worked with collaborators from the Mandelboim Lab to clarify how Vaccinia interacts with the immune system. They tested multiple strains of Vaccinia, encoded immune-activating proteins into the virus and identified transcriptional signatures to better explain this interaction. They've developed a vaccinia virus that can clone itself in tumour cells, but does not yet have the immune component needed to work as a vaccine.
The Fellowship allowed fellows from the Bell Lab and the Mandelboim Lab to optimize the specificity of a potential oncolytic Vaccinia virus while learning from each other's expertise in oncology and immunology.
Dr. Laszlo Radvanyi, President and Scientific Director of OICR, commented on the impact of the Program, "The funding provided by the Lebovic brothers allowed us to create a platform for Ontario scientists to establish collaborations with researchers in Israel and we look forward to strengthening this platform for future collaborative work."
Learn more about the Fellowship Program in our news release or apply for the second round of the Lebovic Fellowship here.