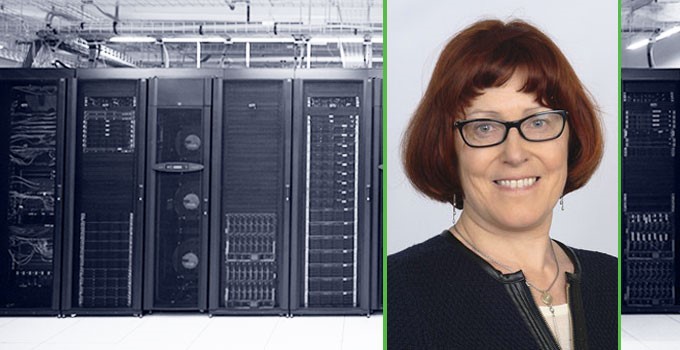 OICR welcomes Dr. Anna Panchenko, Tier I Canada Research Chair, to Ontario's cancer research community as OICR's newest Senior Investigator
Recently recruited to Canada as a Tier I Canada Research Chair and OICR Senior Investigator, Dr. Anna Panchenko has chosen to establish her lab at the Department of Pathology and Molecular Medicine, Queen's University School of Medicine. OICR is proud to support Panchenko and her research endeavors with a Senior Investigator Award, which is given to researchers who have achieved national and international excellence and spent more than 10 years as independent investigators.
Panchenko joins the local research community with nearly two decades of experience at the National Institutes of Health's National Center for Biotechnology Information. She is internationally recognized for her expertise in using computational biology to study cancer genomics and epigenetics, protein-protein interactions and nucleosome dynamics. Her methods have been widely used by thousands of scientists from around the world.
Here, she discusses her work and the opportunities that Ontario provides.
What is your research about?
Generally, there are two prongs to my research focus. The first is investigating cancer-related mechanisms. We're looking at how mutations accrue – or accumulate – in cancer cells, which mutations are driving carcinogenesis and how these mutations may affect proteins and their interactions. The second is looking into how chromatin is dynamically regulated at a molecular level.
Both of these avenues are important to our understanding of cancer, and both areas of study need new computational methods and techniques. My group develops these methods and algorithms to better understand cancer progression to possibly come up with new targeted therapeutic strategies.
For example, some of my work focuses on identifying cancer-driving mutations – the changes in DNA that are at the root of cancers. Out of hundreds of point mutations, there are only a few that drive the disease. If we can find these mutations, we can discover new ways to predict the course of a patient's disease, or new ways to treat the disease.
What excites you about your work?
I am excited by the beauty and complexity of biological systems. I am also excited by working with the dedicated, curious and smart people in our scientific community. My work isn't just about making discoveries, it's about designing methods to help other researchers to make their own discoveries.
What drew you to this field?
I grew up in Moscow and I was always interested in math and biology as a child. I was motivated to pursue science by my parents who are both scientists and the field of computational biology was a perfect combination of my two interests. Throughout my career, I met several other scientists who impressed me with their integrity, behavior and dedication to science. They inspired me to continue along this difficult but very gratifying path.
Why were you interested in coming to Canada? What's next?
I love Canada, it feels like home. I'm now minutes away from Lake Ontario in a community of incredible scientists and clinicians. I feel like there are a lot of exciting opportunities here and I'm proud to be working in a high-caliber work environment. I appreciate the support from the government and I love the culture of collaboration. I'm excited to strengthen my collaborations with researchers at different departments of Queen's University and across Ontario.