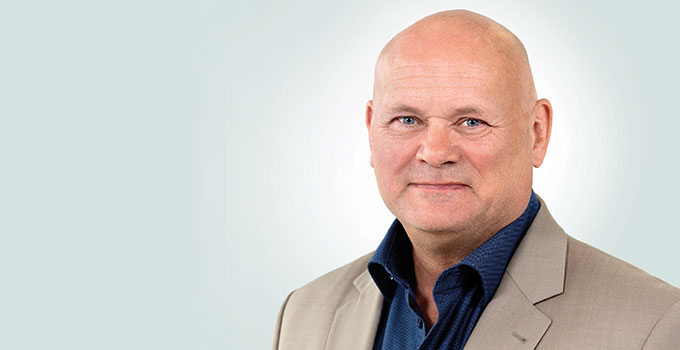 OICR is pleased to announce that Mr. Peter Goodhand is OICR's new President for a one-year term. Goodhand served as Interim President of OICR over the past 10 months, in addition to his role as Executive Director of the Global Alliance for Genomics and Health (GA4GH). We spoke to Goodhand about why he took on the new, expanded job, how it differs from his previous role, what this means for the search for a permanent OICR President and Scientific Director and what he's planning for the next year at OICR.
How would you describe your time as Interim President of OICR?
It was a great experience. There was definitely a rapid learning curve in the beginning. Even though I'd been at OICR for three years or more doing my GA4GH work, that's just one part of a great deal of activity at OICR. I've enjoyed working with the leadership team, getting to know more of the staff and collaborators and learning more about OICR and all the great work we do.
What did you learn about OICR over this time? 
I knew more about the informatics work at OICR before, through my work at GA4GH, and therefore had a good connection to data science and the International Cancer Genome Consortium. I didn't have an appreciation or full understanding of the other aspects of our research, the strength of our commercialization efforts through the Fight Against Cancer Innovation Trust (FACIT), the sheer number of collaborations OICR has underway and some of the networks we support. So I think the breadth of the work OICR takes on and the excellence of our work in different aspects of cancer research was the real learning experience for me.
How will the year ahead differ from the previous 10 months at OICR?
The new executive team put in place last spring (Dr. Christine Williams joined OICR in April 2016 as Deputy Director and Dr. Lincoln Stein was named Interim Scientific Director) developed a series of guiding principles for the interim period – things we would really need to focus on that had to be done in a limited time frame. There were also things we believed were less urgent and should be deferred to leave the new President and Scientific Director with as much flexibility as they could have to shape the Institute. We were guided by the new five-year Strategic Plan, which launched in April 2016. The many new research and strategic initiatives in the plan had to be executed and that had to be done well.
The big benefit of having a more planned time horizon is that we can finish off the plan we started and be more deliberate about the things that have to be done in the next year. We're not looking at things on a quarter-by-quarter basis. We can really take a solid look at the next year and put the right things in place.
What is new about your role as President?
The role is not actually a lot different. It's no longer described as an interim role and also comes with the delegated authority from the OICR Board of Directors to make decisions on the Institute's strategy. Although we're implementing a five-year plan now, it's not static. We need to make sure we're doing cutting-edge science today, but also that we're anticipating external scientific developments, and we have the leadership in place that will get us through not just the next year, but also prepare us for when a permanent President and Scientific Director arrives.
What are you most excited about in the coming year?
I think it is the integration approach. When I look at OICR it is not any one of our specific scientific or non-scientific endeavours that excites me. It is the idea of continuing to develop an institute with 300-plus people on staff and hundreds of collaborators, bringing together scientific and non-scientific staff and making sure we've all got that shared sense of mission and vision and feel vested in the Strategic Plan.
So for me it's very much about mobilizing an organization for a common purpose, whether that's a researcher working in a lab or someone working on the corporate side ensuring the health and safety of our employees I've actually been holding back my natural instincts to push us ahead, thinking that it was not my organization to lead. So at least for the next few months I can take the brakes off that natural instinct.
I'm also really excited about getting out of our office in the MaRS building and spending more time in the cancer research community, particularly with our scientists and program leaders. This is a big priority for the whole executive team and I'm really looking forward to seeing the great cancer research underway across Ontario firsthand.
What are the biggest opportunities for OICR in the next several years?
I think the opportunity and the challenge for an institute like OICR is the pace of change. Whether it's cancer research or other diseases there's a revolution taking place in the availability of information and whether it becomes a tsunami of overwhelming noise or a goldmine of valuable knowledge. We can't make sense of the vast amounts of new data on a "human scale". So this becomes about how we apply the best in data science to traditional biomedical research. Whether it is investments made elsewhere in artificial intelligence or deep learning, or work we're doing ourselves in advanced bioinformatics, this requires cross-science, cross-disciplinary, cross-disease learning from others and then integrating that learning in a rapidly moving field.
While its important to have a solid strategic plan and clear projects and deliverables its just as important stay flexible, adaptive and on the cutting edge so that we're constantly reinventing ourselves to be part of global knowledge generation and sharing, not trapped within our own walls. You can't predict where the Institute will be, but you can predict the characteristics we'll have to exhibit.
For almost 30 years now I have been fighting cancer, whether at a family level or a professional level, as a volunteer or an executive. At a personal level there is no more important cause for me to engage in, and OICR is an Institute that can effect powerful change in toll cancer takes on patients and families.
What role will OICR's scientific leadership play this year? 
I think we need leadership, both scientific and non-scientific, at all levels of the organization. I think we have great leadership here on the executive team, with our Program Directors and with strong membership of external advisors on our Scientific Advisory Boards and Scientific Advisory Committees. But it's not about waiting for someone at the top of an organization chart to lead, its about what leadership do we show in every aspect of what we do, in our lab, at our computers, in writing that next grant. From an organizational point of view, I'll make sure that leadership is part of our culture but it needs to come from within and not be driven from the top down.
You already have a full time job as Executive Director of GA4GH. Why did you feel it was important to take on this role?
When I first started I was the only employee at GA4GH. Today we have 10 people who work at GA4GH as dedicated staff and 1,000 volunteers. It definitely needed all of my energy and experience to get going. Like a start-up company, we've reached the next stage where I can spend less of my own personal time on it and rely more on the strong network of staff and volunteers to share GA4GH leadership. It will allow me to play more of an Executive Director role at GA4GH and less of a hands on role. This new role at OICR will take more of my time and OICR will have primacy, but I believe I will still be able to provide strong leadership to GA4GH.
For almost 30 years now I have been fighting cancer, whether at a family level or a professional level, as a volunteer or an executive. At a personal level there is no more important cause for me to engage in, and OICR is an Institute that can effect powerful change in toll cancer takes on patients and families.
What message do you have for the thousands of scientists that collaborate with OICR across Canada and around the world?
OICR is extremely open to collaboration. We can't collaborate with everyone on all things all the time, but we will share our expertise, capabilities and resources and look at meaningful collaborations in areas where we can add real value, whether that's in Ontario, in Canada or internationally.
Cancer research is no longer about one researcher working in a lab. It's about group science, collaborative science, big science. It's also about working with clinical partners and commercialization partners, with governments and with industry to see beyond the excitement of an initial discovery to ensure that discovery has a defined path to the clinic. Most of the work we do can't be done just within these walls. It must be done through collaboration. This is an ongoing, iterative conversation that we can continue to build upon.
What do you feel is most important about OICR's work and the ultimate impact of the Institute's research?
We want the research we do to have global patient impact and we want that impact as quickly as possible. The work has to be adopted by the health care system in Ontario, in Canada and around the world. The other critically important part of our work is local economic impact. For that we need to work closely with FACIT. It means giving our research the best possible path to commercial success and clinical adoption. We are funded by the Ministry of Research, Innovation and Science to fund great research for the benefit of patients around the world, but also to have a real economic impact for the province in terms of jobs and companies and contributing to the growing innovation economy in Ontario.