Dr. Laurie Ailles
Investigator II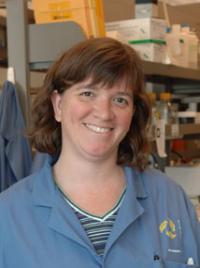 Dr. Laura Ailles and her team are focusing on two major research areas:
1. Intra-tumoural heterogeneity.
One focus is the identification and characterization of tumour-initiating cells (TICs) in solid tumours and the relationship between TICs and clonal evolution. The team also studies the role of cancer-associated fibroblasts in promoting malignant behaviours such as stemness and invasion. The cancers studied are head and neck squamous cell carcinoma, high-grade serous ovarian cancer and clear cell renal cell carcinoma.
2. Epigenetics in clear cell renal cell carcinoma (ccRCC).
The team is using primary patient-derived cultures and xenografts to gain a deep understanding of the epigenetic deregulation occurring in ccRCC, including identification of downstream effects on target genes and pathways and identification of small molecules with rapid clinical translational potential.
Current affiliations
Investigator II, OICR;
Scientist, Princess Margaret Cancer Centre;
Assistant Professor, Dept. of Medical Biophysics, University of Toronto.
Research interests
Tumour-initiating cells;
Tumour microenvironment;
Cancer-associated fibroblasts;
Cell-cell interactions;
Genomic profiling;
Intra-tumoural genetic heterogeneity;
Epigenetics.
Select publications
Lobo N, Gedye C, Apostoli A, Stickle N, Hyatt E, Evans A, Jewett MAS and Ailles L.
Efficient generation of patient-matched malignant and normal primary cell cultures from clear cell renal cell carcinoma patients: clinically relevant models for research and personalized medicine.
BMC Cancer, 16:485-499, 2016.
---
Gedye C, Sirskyj D, Lobo N, Meens J, Hyatt E, Robinette M, Fleshner N, Hamilton RJ, Kulkarni G, Zlotta A, Evans A, Finelli A, Jewett MAS, and Ailles LE.
Standard experimental methods substantially underestimate renal carcinoma initiating cell frequencies.
Scientific Reports, 6:25220, 2016.
---
Apostoli AJ, Ailles L.
Clonal evolution and tumor-initiating cells: New dimensions in cancer patient treatment.
Crit Rev Clin Lab Sci, 53:40-51, 2016.
---
Stewart, JM, Shaw PA, Gedye C, Bernardini M, Neel BJ, Ailles LE. Phenotypic Heterogeneity and Instability of Human Ovarian Tumor-Initiating Cells.
Proc Natl Acad Sci USA, 108:6468-73, 2011.
---
Prince ME, Sivanandan R, Kaczorowski A, Wolf GT , Kaplan MJ, Dalerba P, Weissman IL, Clarke MF, Ailles LE.
Identification of a subpopulation of cells with cancer stem cell properties in head and neck squamous cell carcinoma.
Proc Natl Acad Sci USA. 104:973-8, 2007.
Previous experience and education
Senior Research Scientist, Stanford University;
Research Associate, Stanford University;
Postdoctoral fellow, Pathology, Stanford University;
Postdoctoral fellow, Gene Therapy, Institute for Cancer Research, Candiolo, Italy;
PhD, Genetics, University of British Columbia.
Opportunities to collaborate
Dr. Ailles' lab has generated a range of patient-derived resources, including xenografts, cancer-associated fibroblasts and renal cancer cell lines. Inquiries regarding collaborations utilizing these resources are welcome.
Related links
University Health Network – Dr. Laurie Ailles
Contact