Dr. Mathieu Lupien
Investigator II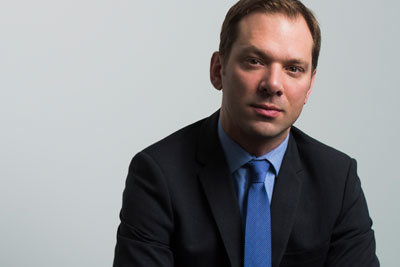 Dr. Mathieu Lupien is a Senior scientist at the Princess Margaret Cancer Centre and holds a cross-appointment with OICR.
Lupien's research highlights the need to characterize the epigenetic basis of cancer to understand the role of the noncoding cancer genome and identify new therapeutic opportunities and complementary markers of response.
Lupien is recognized for three seminal discoveries:
Epigenetic modifications on histones can discriminate cell-type-specific-noncoding gene regulatory elements in normal and cancer cells.
Epigenetic alterations at gene regulatory elements underlie cancer initiation and progression.
Noncoding genetic alterations promoting cancer development preferentially target gene regulatory elements.
Lupien's research is centered on identifying the epigenetic changes in cancer cells and to reveal their underlying molecular biology. The ultimate goal is to develop new and improved strategies to hinder cancer development.
Current affiliations
Investigator II, OICR;
Associate Professor, Department of Medical Biophysics, University of Toronto;
Senior scientist, Princess Margaret Cancer Centre.
Research interests
Epigenomics;
Chromatin architecture;
Genetics of cancer;
Bioinformatics;
Computational science;
Transcriptional regulation;
Breast cancer;
Prostate cancer;
Cancer stem cells.
Select publications
Lan X, Jörg DJ, Cavalli FMG, Richards LM, Nguyen LV, Vanner RJ, Guilhamon P, Lee L, Kushida MM, Pellacani D, Park NI, Coutinho FJ, Whetstone H, Selvadurai HJ, Che C, Luu B, Carles A, Moksa M, Rastegar N, Head R, Dolma S, Prinos P, Cusimano MD, Das S, Bernstein M, Arrowsmith CH, Mungall AJ, Moore RA, Ma Y, Gallo M, Lupien M, Pugh TJ, Taylor MD, Hirst M, Eaves CJ, Simons BD, Dirks PB.
Fate mapping of human glioblastoma reveals an invariant stem cell hierarchy.
Nature. 2017; 549(7671):227-232.
Park NI, Guilhamon P, Desai K, McAdam RF, Langille E, O'Connor M, Lan X, Whetstone H, Coutinho FJ, Vanner RJ, Ling E, Prinos P, Lee L, Selvadurai H, Atwal G, Kushida M, Clarke ID, Voisin V, Cusimano MD, Bernstein M, Das S, Bader G, Arrowsmith CH, Angers S, Huang X, Lupien M, Dirks PB.
ASCL1 Reorganizes Chromatin to Direct Neuronal Fate and Suppress Tumorigenicity of Glioblastoma Stem Cells.
Cell Stem Cell. 2017; 21(3):411.
Kron KJ, Murison A, Zhou S, Huang V, Yamaguchi TN, Shiah YJ, Fraser M, van der Kwast T, Boutros PC, Bristow RG, Lupien M.
TMPRSS2-ERG fusion co-opts master transcription factors and activates NOTCH signaling in primary prostate cancer.
Nat Genet. 2017; 49:1336-45.
Zhou S, Treloar AE, Lupien M.
Emergence of the noncoding cancer genome: A target of genetic and epigenetic alterations.
Cancer Discov. 2016; 6(11):1215-1229.
Bailey SD, Desai K, Kron KJ, Mazrooei P, Sinnott-Armstrong NA, Treloar AE, Dowar M, Thu KL, Cescon DW, Silvester J, Yang SY, Wu X, Pezo RC, Haibe-Kains B, Mak TW, Bedard PL, Pugh TJ, Sallari RC, Lupien M.
Noncoding somatic and inherited single-nucleotide variants converge to promote ESR1 expression in breast cancer.
Nat Genet. 2016; 48(10):1260-6.
Gallo M, Coutinho FJ, Vanner RJ, Gayden T, Mack SC, Murison A, Remke M, Li R, Takayama N, Desai K, Lee L, Lan X, Park NI, Barsyte-Lovejoy D, Smil D, Sturm D, Kushida MM, Head R, Cusimano MD, Bernstein M, Clarke ID, Dick JE, Pfister SM, Rich JN, Arrowsmith CH, Taylor MD, Jabado N, Bazett-Jones DP, Lupien M, Dirks PB.
MLL5 Orchestrates a Cancer Self-Renewal State by Repressing the Histone Variant H3.3 and Globally Reorganizing Chromatin.
Cancer Cell. 2015; 28(6):715-729.
Mack SC, Witt H, Piro RM, Gu L, Zuyderduyn S, Stütz AM, Wang X, Gallo M, Garzia L, Zayne K, Zhang X, Ramaswamy V, Jäger N, Jones DT, Sill M, Pugh TJ, Ryzhova M, Wani KM, Shih DJ, Head R, Remke M, Bailey SD, Zichner T, Faria CC, Barszczyk M, Stark S, Seker-Cin H, Hutter S, Johann P, Bender S, Hovestadt V, Tzaridis T, Dubuc AM, Northcott PA, Peacock J, Bertrand KC, Agnihotri S, Cavalli FM, Clarke I, Nethery-Brokx K, Creasy CL, Verma SK, Koster J, Wu X, Yao Y, Milde T, Sin-Chan P, Zuccaro J, Lau L, Pereira S, Castelo-Branco P, Hirst M, Marra MA, Roberts SS, Fults D, Massimi L, Cho YJ, Van Meter T, Grajkowska W, Lach B, Kulozik AE, von Deimling A, Witt O, Scherer SW, Fan X, Muraszko KM, Kool M, Pomeroy SL, Gupta N, Phillips J, Huang A, Tabori U, Hawkins C, Malkin D, Kongkham PN, Weiss WA, Jabado N, Rutka JT, Bouffet E, Korbel JO, Lupien M, Aldape KD, Bader GD, Eils R, Lichter P, Dirks PB, Pfister SM, Korshunov A, Taylor MD.
Epigenomic alterations define lethal CIMP-positive ependymomas of infancy.
Nature. 2014; 506(7489):445-50.
Cowper-Sal lari R, Zhang X, Wright JB, Bailey SD, Cole MD, Eeckhoute J, Moore JH, Lupien M.
Breast cancer risk-associated SNPs modulate the affinity of chromatin for FOXA1 and alter gene expression.
Nat Genet. 2012; 44(11):1191-8.
See Dr. Lupien's recent publications on PubMed or on Google Scholar.
Tools
Awards
Till and McCulloch Discovery of the Year (Basic) Award, 2012, 2017;
Rising Star in Prostate Cancer Research Award, 2014;
Canadian Institutes of Health Research, New Investigator Salary Award, 2014;
OICR Investigator Level I Award, 2012.
Previous experience
Scientist, The Princess Margaret Cancer Centre;
Assistant Professor, Department of Medical Biophysics, University of Toronto;
Director, Quantitative Epigenomics Laboratory, Institute for Quantitative Biomedical Sciences, Dartmouth Medical School;
Assistant Professor, Department of Genetics, Dartmouth Medical School, Norris Cotton Cancer Center;
Related links
Opportunities to collaborate
To collaborate with Dr. Lupien, please contact him directly.
Visit OICR's Collaborative Research Resources directory for more opportunities to collaborate with OICR researchers.
Contact
Dr. Mathieu Lupien
mlupien@uhnres.utoronto.ca