Dr. Robert Rottapel
Senior Investigator & Co-Leader, Ovarian Cancer TRI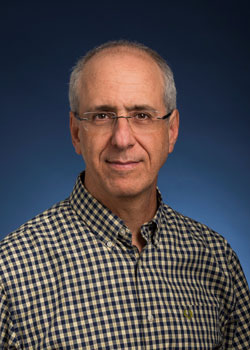 The Rottapel laboratory uses functional genetic screens (both shRNA and CRISPR/Cas9) to identify novel vulnerabilities in ovarian cancer as a strategy to develop new therapeutic targets. They focus on understanding signal transduction pathways that operate in normal and cancer cells and the regulatory processes that control protein function. The lab is particularly interested in targeting adaptive stress pathways that support the transformed cancer state as a strategy to find new anti-cancer therapies.
Other areas of research pursued in the laboratory focus on signal transduction pathways in the immune system and the study of monogenic human diseases that control inflammation, bone homeostasis and metabolism.
Current affiliations
Senior Investigator, OICR
Co-Leader, Ovarian Cancer Translational Research Initiative
Senior Scientist and Amgen Chair for Cancer Research, Princess Margaret Cancer Centre
Professor, Departments of Medicine, Immunology and Medical Biophysics, University of Toronto
Rheumatologist, Department of Medicine, St. Michael's Hospital, Toronto
Research interests
Cancer functional genetics
Synthetic lethal screens
Signal transduction
Regulation of protein function
Ovarian cancer
Pancreatic cancer
Select publications
See Dr. Rottapel's recent publications on PubMed or on Google Scholar.
Previous experience
Program Director, Innovation in Target Validation, OICR
Amgen Chair for Cancer Research, University Health Network
Opportunities to collaborate
Target validation in ovarian cancer
Development of novel small molecule or antibody based therapeutics
Mechanism of transformation underlying ovarian cancer
CRISPR/CAS9 functional genetic screens
Drug sensitizing screens
Visit OICR's Collaborative Research Resources directory for more opportunities to collaborate with OICR researchers.
Related links
University Health Network Researcher Page – Dr. Robert Rottapel
University of Toronto, Department of Medical Biophysics Faculty Page – Dr. Robert Rottapel
University of Toronto, Department of Immunology Faculty Page – Dr. Robert Rottapel
Contact
Donna De Francesco
ddefranc@uhnresearch.ca