Dr. Robert Rottapel
Co-Leader, Ovarian Cancer TRI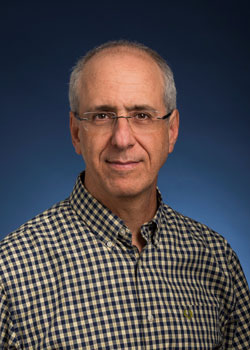 The Rottapel laboratory uses functional genetic screens (both shRNA and CRISPR/Cas9) to identify novel vulnerabilities in ovarian cancer as a strategy to develop new therapeutic targets. They focus on understanding signal transduction pathways that operate in normal and cancer cells and the regulatory processes that control protein function. The lab is particularly interested in targeting adaptive stress pathways that support the transformed cancer state as a strategy to find new anti-cancer therapies.
Other areas of research pursued in the laboratory focus on signal transduction pathways in the immune system and the study of monogenic human diseases that control inflammation, bone homeostasis and metabolism.
Current affiliations
Senior Scientist and Amgen Chair for Cancer Research, Princess Margaret Cancer Centre;
Professor, Departments of Medicine, Immunology and Medical Biophysics, University of Toronto;
Rheumatologist, Department of Medicine, St. Michael's Hospital, Toronto.
Research interests
Cancer functional genetics;
Synthetic lethal screens;
Signal transduction;
Regulation of protein function;
Ovarian cancer;
Pancreatic cancer.
Select publications
Dimitriou ID, Lee K, Akpan I, Lind EF, Barr VA, Ohashi PS, Samelson LE, Rottapel R.
Timed Regulation of 3BP2 Induction Is Critical for Sustaining CD8(+) T Cell Expansion and Differentiation.
Cell Rep. 2018;24(5):1123-1135.
Gebregiworgis T, Marshall CB, Nishikawa T, Radulovich N, Sandí MJ, Fang Z, Rottapel R, Tsao MS, Ikura M.
Multiplexed Real-Time NMR GTPase Assay for Simultaneous Monitoring of Multiple Guanine Nucleotide Exchange Factor Activities from Human Cancer Cells and Organoids.
J Am Chem Soc. 2018;140(13):4473-4476.
Sandí MJ, Marshall CB, Balan M, Coyaud É, Zhou M, Monson DM, Ishiyama N, Chandrakumar AA, La Rose J, Couzens AL, Gingras AC, Raught B, Xu W, Ikura M, Morrison DK, Rottapel R.
MARK3 mediated phosphorylation of ARHGEF2 couples microtubules to the actin cytoskeleton to establish cell polarity.
Sci Signal. 2017;10(503).
Fine N, Dimitriou ID, Rottapel R.
Go with the flow: GEF-H1 mediated shear stress mechanotransduction in neutrophils.
Small GTPases. 2017 :1-9.
Kent OA, Sandi MJ, Rottapel R.
Co-dependency between KRAS addiction and ARHGEF2 promotes an adaptive escape from MAPK pathway inhibition.
Small GTPases.  2017:1-8.
Rabinowicz N, Mangala LS, Brown KR, Checa-Rodriguez C, Castiel A, Moskovich O, Zarfati G, Trakhtenbrot L, Levy-Barda A, Jiang D, Rodriguez-Aguayo C, Pradeep S,  van Praag Y, Lopez-Berestein G, David A, Novikov I, Huertas P, Rottapel R, Sood AK, Izraeli S.
Targeting the centriolar replication factor STIL synergizes with DNA damaging agents for treatment of ovarian cancer.
Oncotarget. 2017;8(16):27380-27392.
Matsumoto Y, La Rose J, Lim M, Adissu HA, Law N, Mao X, Cong F, Mera P Karsenty G, Goltzman D, Changoor A, Zhang L, Stajkowski M, Grynpas MD, Bergmann C, Rottapel R.
Ubiquitin ligase RNF146 coordinates bone dynamics and energy metabolism.
J Clin Invest. 2017;127(7):2612-2625.
Mauricio Medrano, Laudine Communal, Marcin Iwanicki, Joshua Paterson, Kevin Brown, Fabrice Sircoulomb, Paul Krzyzanowski, Josee Normand, Sasha Anita Doodnauth, Marian Novak, Fernando Suarez, Jane Cullis, Benjamin G. Neel, John McPherson, Jason Moffat, Ronny Drapkin, Laurie Ailles, Anne-Marie Mes-Mason, and Robert Rottapel.
Interrogation of functional cell surface markers identifies CD151 dependency in high-grade serous ovarian cancer. 
Cell Report. 2017;18(10):2343-2358.
Fine N, Dimitriou ID, Rullo J, Sandí MJ, Petri B, Haitsma J, Ibrahim H, La Rose J, Glogauer M, Kubes P, Cybulsky M, Rottapel R.
GEF-H1 is necessary for neutrophil shear stress-induced migration during inflammation.
J Cell Biol. 2016;215(1):107-119.
Meiri D, Marshall CB, Mokady D, LaRose J, Mullin M, Gingras AC, Ikura M, Rottapel R.
Mechanistic insight into GPCR-mediated activation of the microtubule-associated RhoA exchange factor GEF-H1.
Nat Commun. 2014;5:4857.
See Dr. Rottapel's recent publications on PubMed or on Google Scholar.
Previous experience
Program Director, Innovation in Target Validation, OICR;
Amgen Chair for Cancer Research, University Health Network.
Opportunities to collaborate
Target validation in ovarian cancer;
Development of novel small molecule or antibody based therapeutics;
Mechanism of transformation underlying ovarian cancer;
CRISPR/CAS9 functional genetic screens;
Drug sensitizing screens.
Visit OICR's Collaborative Research Resources directory for more opportunities to collaborate with OICR researchers.
Related links
University Health Network Researcher Page – Dr. Robert Rottapel
University of Toronto, Department of Medical Biophysics Faculty Page – Dr. Robert Rottapel
University of Toronto, Department of Immunology Faculty Page – Dr. Robert Rottapel
Contact
Donna De Francesco
ddefranc@uhnresearch.ca