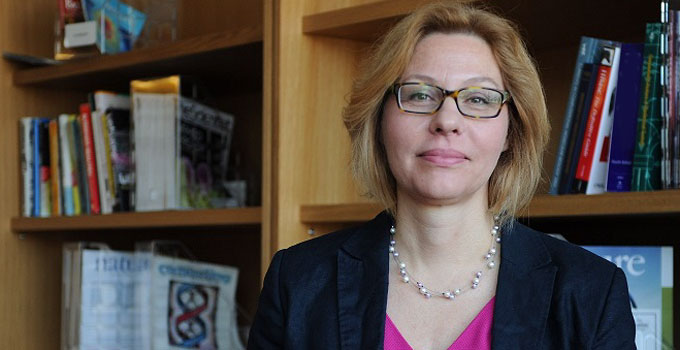 OICR-supported researcher Dr. Nicole Mittmann leads collaborative initiative to determine the value of new cancer solutions and the burden of cancer care on Canada's healthcare system
Canada is well known for its publicly funded healthcare system, its universal health coverage, and in most recent news – for the Toronto Raptors.
What is less recognized, however, is that with its distinctive healthcare system, Canada has unique healthcare reimbursement processes and resource needs, especially for the delivery of cancer care. While Canada collects some of the most robust and comprehensive healthcare data, Canadian datasets are underutilized in research and policy decision making.
Dr. Nicole Mittmann has set out to close this gap and, in turn, transform our administrative health information into tangible healthcare improvements.
"As cancer-drug costs continue to rise, there is – now more than ever before – a need to understand the Canadian context with respect to costs and health system resource use," she writes in Current Oncology.
Turning data into action
Mittmann, who was recently appointed as the Chief Scientist and Vice-President of Evidence Standards at the Canadian Agency for Drugs and Technologies in Health (CADTH), sees Canada's rich data as a goldmine for improving the management of diseases and the delivery of care.
"This information can be used to help us make decisions, help us plan and help us understand the value of new technologies," she says. "It could also show us areas where we need to improve, or problems that weren't apparent through practice alone, but we needed to reduce the barriers to using these data for research."
With OICR's support, Mittmann has linked important cancer care data with other administrative health records and improved the infrastructure for safe health data sharing and research.
---
Getting the data into research is only part of the challenge…the other part is getting the research into practice
---
Meanwhile, she has developed two algorithms that researchers can use to cost chemotherapy treatment and one to cost radiation treatment. These costing algorithms have been applied in research on breast cancer, lung cancer, pancreas cancer, esophageal cancer, melanoma and other cancers to create Canada- and Ontario-specific economic models and cost burden estimates that can inform decision making at hospitals, research institutes and other organizations.
"Getting these data into research is only part of the challenge, the other is getting the research into practice," says Mittmann.
We the north
Mittmann has recognized a lack of understanding about Canada in the international scientific publishing community. Research reviewers have asked her "Why should one even care about the use of care services in Canada?" and, "Is Ontario a major metropolitan area?"
To ensure that Canadian research on cancer care costing is published, Mittmann has led an initiative to gather high-quality research findings about the cost of cancer and publish these findings together in a concerted way.
---
We're moving toward a learning healthcare system, where we learn from our own data and we make improvements along the way
---
In 2015, in partnership with Current Oncology, the Canadian Partnership Against Cancer and OICR, Mittmann gathered eight of the top Canadian costing research manuscripts and published them together as a peer-reviewed collective costing series. This year, once again, she has published another series about costing cancer care with an additional seven publications from various jurisdictions across Canada, with co-funding from OICR and the Applied Research in Cancer Control.
The most recent series takes a look into the impact of transitioning from branded drugs to generic drugs, the true cost of colonoscopies and gastroscopies, and the substantial real-world cost of managing non-small-cell lung cancer in Ontario, among other topics.
Interestingly, one of the studies discovered that cancer is likely costing our healthcare system more per patient than any other disease, such as cardiovascular disease, diabetes, mental health and trauma. These findings can help inform provincial health budgets and the allocation of resources for a growing population.
Mittmann looks forward to a future where our health data is collected and seamlessly integrated into our healthcare decisions.
"We're moving toward a learning healthcare system, where we learn from our own data and we make improvements along the way. To that end, we will continue working to reduce the barriers between our health data and a better health system."
Read more about OICR's most recent health services projects on OICR News or learn more about currently funded projects on our website.